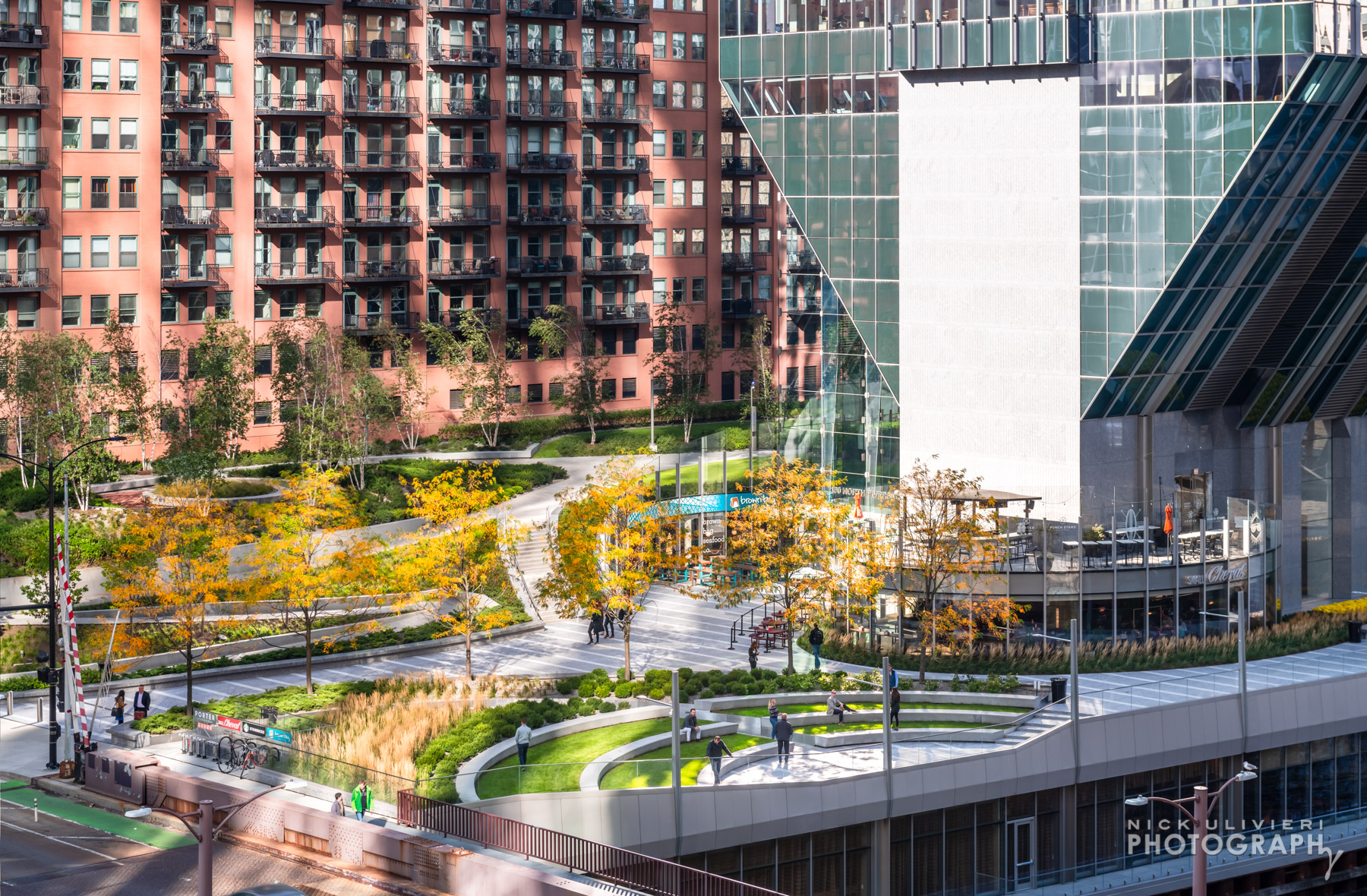 The Park at 150 N. Riverside
Architecture photography requires patience. You're waiting on the sun to move, clouds to part, people to shift. The list goes on. For a lot of my projects, I use a "hurry up and wait" strategy. I get to where I need to be well before I need to be there, then wait and hope the light cooperates. But sometimes it takes years for certain shots to present themselves. Particularly images focused on a building's landscaping. While 150 N. Riverside opened to tenants in February of 2017, it wasn't until this week that Goettsch Parters was ready to have the park photographed: Recent landscaping adjustments were complete, the park's fall colors began to pop, and a couple days of bright sun was in the forecast.
But there was an added challenge. With the lower sun angle this time of year, 110 N. Wacker – another Goettsch project still under construction – casts a partial shadow onto the park in the morning. And in the afternoon, the Boeing Building fully shades the space. So what did we do? Used a giant reflector…sort of. In a twist of fate, 110 N. Wacker, was also the reflector! For about 2 hours in the early afternoon, the sunlight bounces off 110's serrated facade and fills the park with warm, bright sunlight.
The photos were taken from the 110 N. Wacker (the shadow caster/reflector) construction site. I scouted the location two days before to ensure the reflections would light the park as anticipated. Thankfully, they did. Then two days later – on a weekday afternoon – when clear skies returned, I re-visited the 4th level terrace to make my shots. After I captured the necessary frames from L4, I went up to the 26th level terrace for a higher angle. It turned out to be a gorgeous afternoon for some full-height shots of the tower and I coulddn't resist. Here are the rest of the images I created…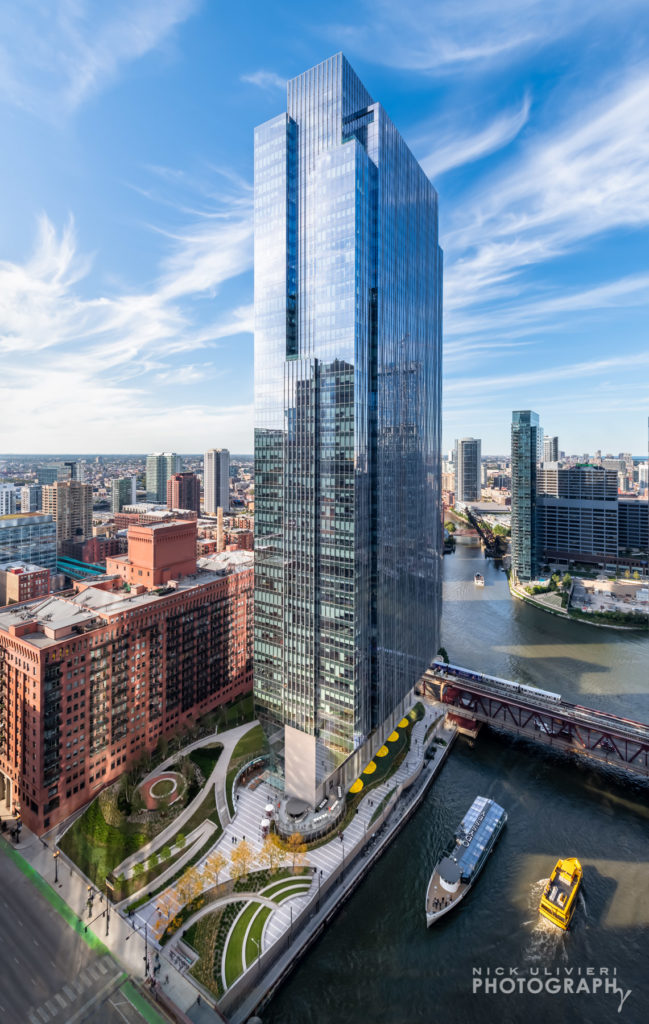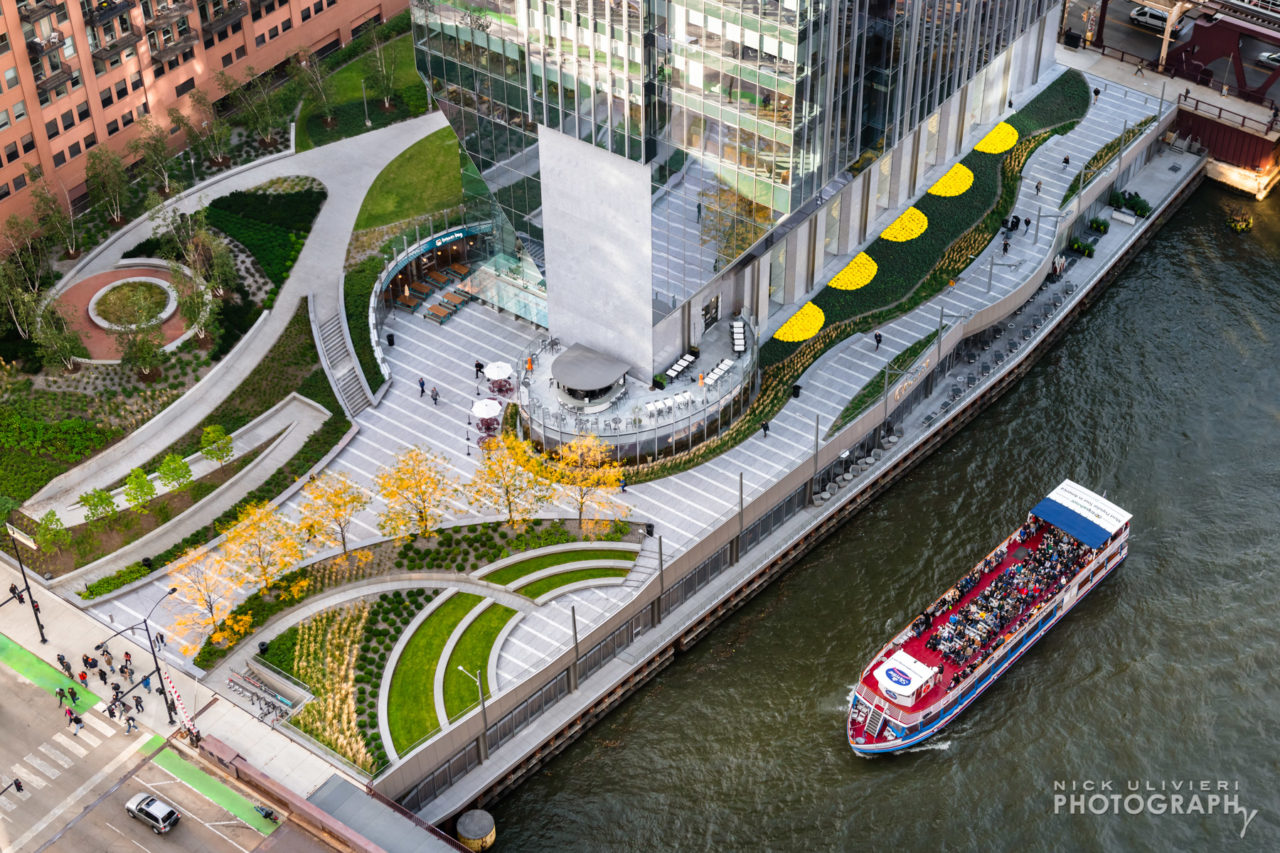 Want to see more photos of 150 N. Riverside? Here are images I create in the spring of 2018…Before 110 N. Wacker began construction.