150 N. Riverside | Final Photos
150 N. Riverside is one of the first skyscrapers I documented from start to finish. As such, it holds a special place in my heart when it comes to Chicago architecture. So when Goettsch Partners (150's architect) & Riverside I.D. (150's developer), reached back out to me with a new challenge earlier this spring, I was stoked.
With the demolition of the General Growth building on Wacker Drive complete, there was a new, unobstructed view of the south & east facades of the building. Given this temporary window before 110 N. Wacker (another Goettsch & Riverside I.D. project) forever blocks this angle, the team wanted a new full-height image of the building for their Council on Tall Buildings and Urban Habitat (CTUBH) award submission. Crucially, the photos needed to feature the base's park and the rippling exterior steel fins glistening in the sunlight. A tall order to fit in a single image.
We set up a meeting to visit the site, and immediately realized the hero shot I could perfectly captured from the roof of 29 N. Wacker. It would also allow me to capture the 110 N. Wacker site as an added bonus. As soon as our meeting wrapped, I identified the property manager and reached out. Then, I impatiently waited.
Meanwhile, a week or two after my initial meeting with the 150 team, another client project brought me to the roof of Lyric Opera building…with a near perfect vantage of 150 N. Riverside. Because the light wasn't ideal for the original goal of the project (reflective fins) I treated this more like a scout shoot. But in the end, the team ended up liking some of the photos so much, we worked them into the final portfolio.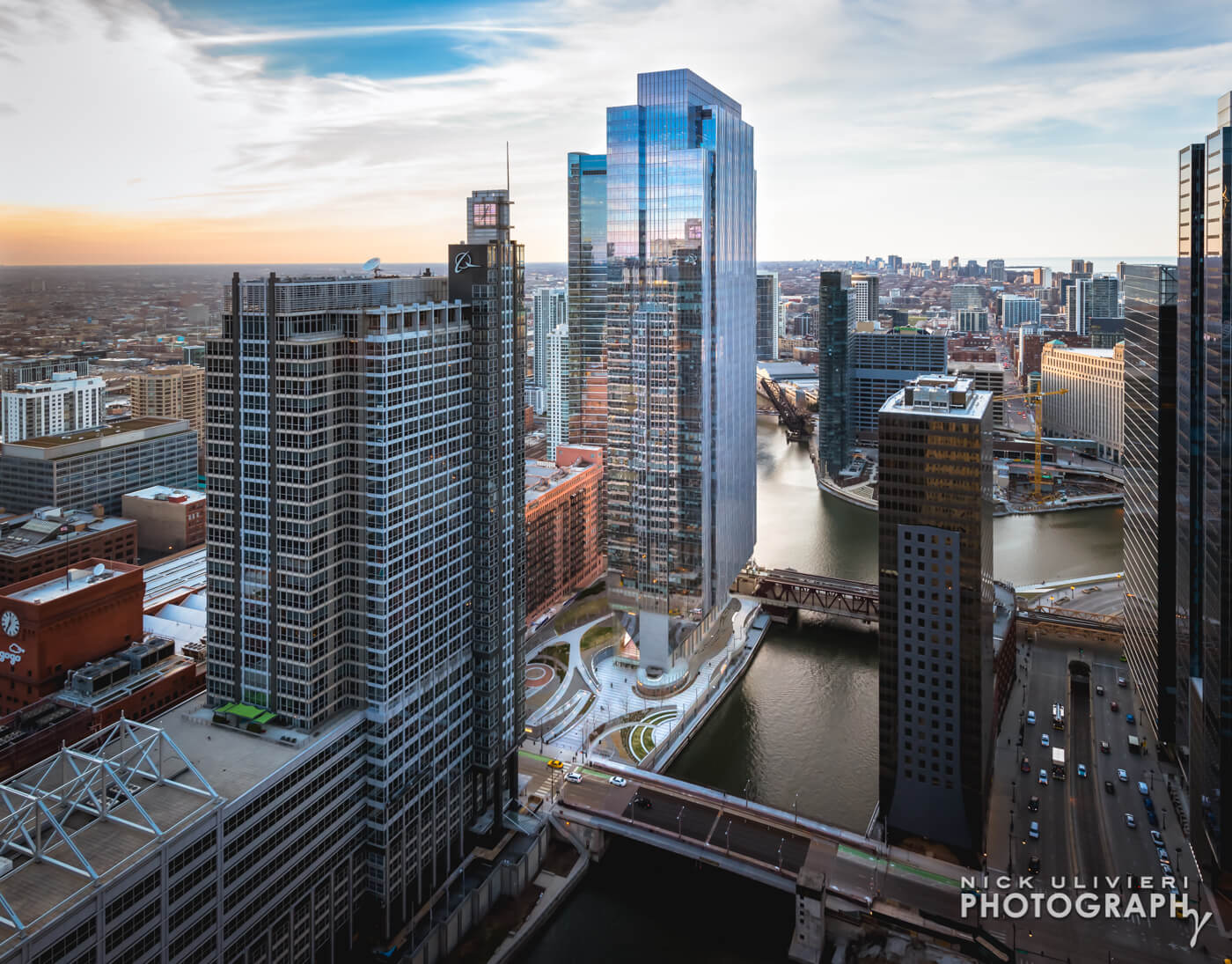 Not long after the Lyric Opera summit, I received news that I was granted access to 29 N. Wacker's roof. I was ecstatic. A handful of emails and insurance forms later, I was officially approved.
The original plan was to do a scout visit to nail down angles and focal lengths. But, the scout visit needed up turning into the final shoot. I ended up getting everything we needed and more. Plus, the 110 N. Wacker foundation crew was already on-site. More cranes and equipment may have blocked the view. And while I originally wanted some clouds, the brilliant white fins really popped off the deep blue sky. That contrast wouldn't have been as great if there was some cloud cover.