Wolf Point East – Final Photography for Walsh Construction
Wolf Point East stands 665 feet tall on the north bank of the Chicago River. Built by Walsh Construction, the 60-story reinforced concrete modern structure sports a blue glass curtain wall. Pelli Clarke Pelli Architects and Pappageorge Haymes Partners designed the tower. Hines was the developer who brought the project to fruition.
---
Construction Progress
Before we get to the final photos, we have to rewind a bit. Prior to the building's completion, I worked closely with Walsh and Hines to document the construction progress. During the build, I made regular visits to take photos of the building's view for Hines along with structural update photos for Walsh.
There are multiple benefits to photographing a project this intently during construction. First, it creates a trove of archival images that are unique; one can't recreate progress images after a building is finished. Second, I was intimately familiar with the building by the time it was finished. I didn't have to scout the project because I already knew things like: the tower's most pleasing angles; the times of day it photographs best; and how surrounding buildings' shadows and reflections affect Wolf Point East. The list goes on. Here is a small sampling of the images I collected during the tower's construction:
---
Marketing & Sales Renderings
Later in the project, when the concrete structure was topped-off but wasn't yet ready for its residents, I worked with SteelBlue to help create final renderings of the building. In short, I photographed various background scenes from precise areas of the building at specific times of day, and they used their CGI wizardry to overlay photo-realistic 3D renderings of Wolf Point East onto my images.
If you want to learn more about that project, you can check out the details here. But for quick reference, below is one of my favorite composites. SteelBlue laid a CGI rendering of the pool deck – at the time just a raw concrete slab – over the background I shot of the river and skyline.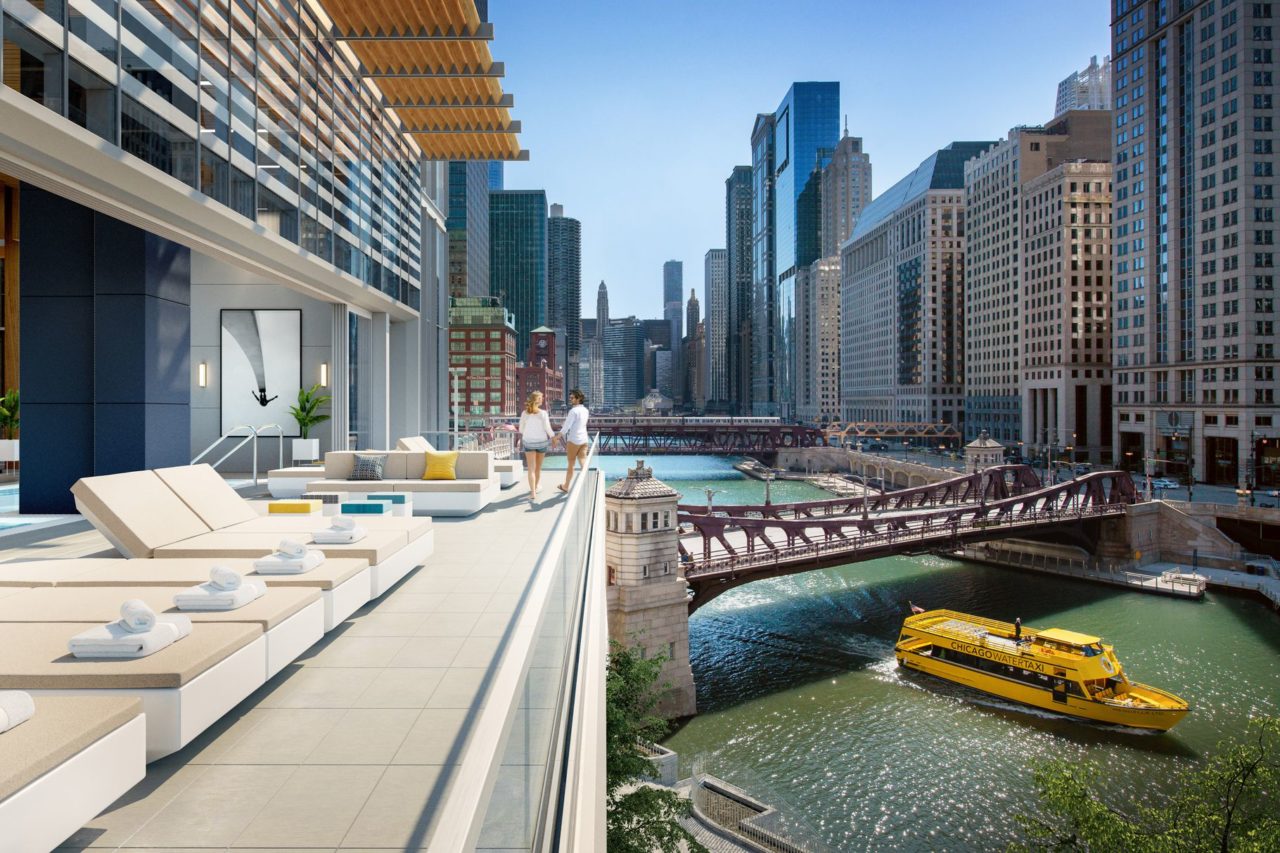 ---
Final Shoot
Once the tower was complete Walsh Construction commissioned me to create final photos its interior and exterior. While I love documenting construction, photographing the final product is always an honor. I was doubly excited because I would finally see the finished interiors – the likes of which I only saw in the renderings.
In August 2020, the Walsh team and I did a walkthrough to create a shot list of the photogenic spaces: the lobby, the game room, the pool and pool deck, the fitness center, etc. In short, my goal was to photograph the beautiful amenity spaces contained within this modern residential skyscraper.
Thanks to thorough pre-planning, favorable weather, and virtually unlimited access to the spaces, I was able to capture the required shots over the course of one – albeit long – day of shooting. So, enough words, here are some of my favorite photos…