Terminal 5: O'Hare's newest extension
The new extension of Terminal 5 is O'Hare Airport's latest effort to modernize one of the world's busiest airports. In 2019 the project officially broke ground and was built by Austin Power Partners; a joint venture between Austin Commercial, Power Construction, and UJAMAA Construction. The project page on Power's website sums of the project details better than I can, so here's an excerpt:
"The project increased the terminal's capacity by 25% to improve efficiency and reduce delays. Passenger amenity space was increased by 75%, and the existing building was expanded by approximately 350,000 square feet, with additional renovations to 750,000 square feet of the existing structure.

The light-filled redesign of the facilities maintains the integrity of the terminal's original 1993 design while modernizing it for the 21st century. The vaulted ceilings welcome natural light and offer views across the airfield toward the Chicago skyline. The L-shaped East Concourse extension added 10 new wide-body gates, nine of which utilize multiple aircraft ramp systems. These gates allow the flexibility to accommodate larger, next-generation wide-body aircraft or more traditional narrow-body aircraft. The space it takes to park two wide-body planes can be repurposed as necessary to fit three narrow-body aircrafts." more here
This was a tricky photoshoot. Many of my projects require special access, but getting onto O'Hare's property and into Terminal 5 was a different animal. In addition to multiple security checkpoints, a 'badged' chaperone from Power Construction was with me at all times. The latter was actually great. Having someone with a badge meant we could get around the airport easily via the doors/corridors regular travelers are restricted from entering.
I photographed this project over two visits nearly 6 months apart. During a December walkthrough, we ended up making some final images. Despite the depths of winter, the sky was deep blue and the sun well-positioned. Since I had my tripod and a few lenses, I set-up my gear and started taking photos.
The feature image above was one of those images. As I was working some angles and compositions of the terminals main volume, the sun streamed into the space. I stopped down my lens' aperture and was able to create a brilliant starburst effect. Being there at that time with that weather was luck, but having the right equipment was key.
The most striking feature of Terminal 5 is its expansive ceiling. Dotted with dozens of recessed light fixtures, the sloping structure is held up, almost entirely, by four inclined columns in the center of the space. Pictured below is one pair of these feature columns. The columns, and other parts of the terminal, are covered in GFRG (Glass Fiber Reinforced Gypsum). GFRG is effectively a liquid drywall that is poured into custom shaped molds. This process allows for complex curves and angled facets that aren't possible with traditional sheets of drywall.
The frame below depicts another interesting feature of the Terminal 5 extension. This "sterile corridor" directs international passengers towards sets of stairs and escalators that filter them down to the famously long hallway that leads to customs. This walkway is technically international territory — until passengers get through customs, they're not officially on U.S. soil!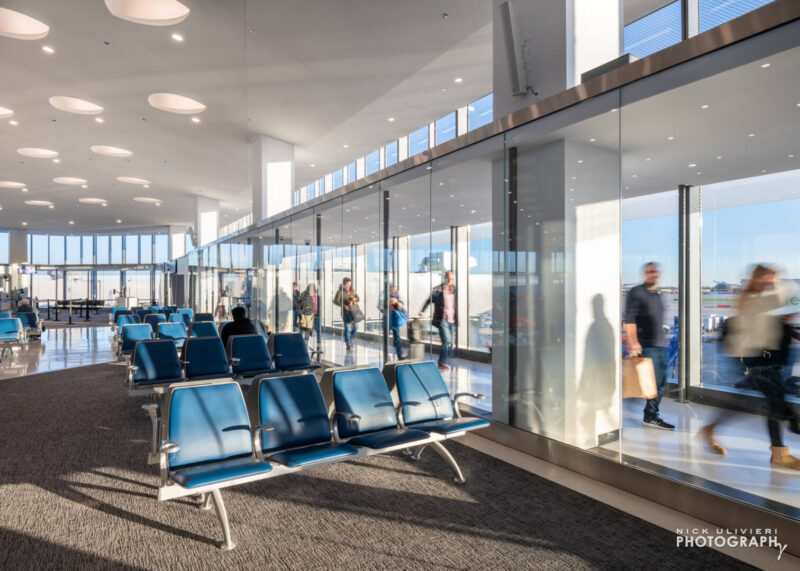 Once passengers get down the stairs, they are, literally, greeted with a custom-designed Terrazo floor imprinted with the word "WELCOME" in more than a dozen languages. The mirrored column is a nice touch, but required a fair bit of Photoshop magic to remove me and my hi-vis vest from the frame.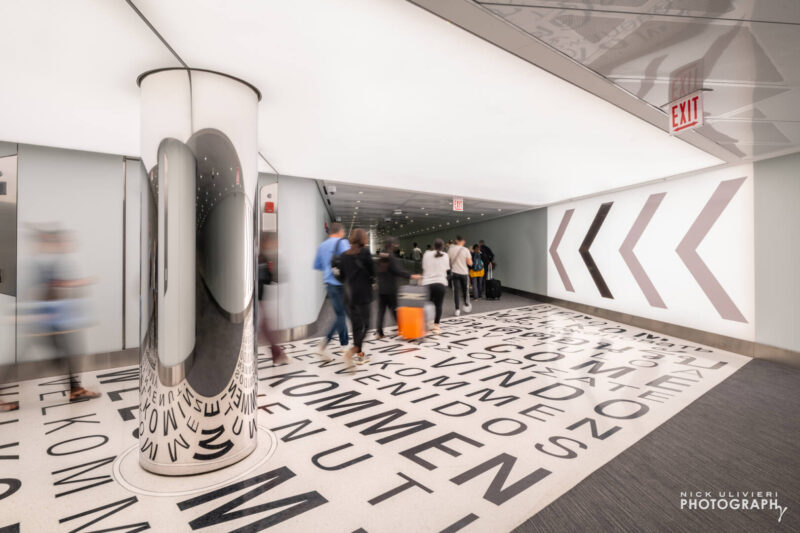 Here are a few more images of Terminal 5, including the art installation A Murmuration by Jina Valentine that runs the entire length of the people mover.