Open House Chicago 2015
Open House Chicago is one of my favorite weekends of the year. The Chicago Architectural Foundation does a wonderful job convincing 200+ sites all over  Chicago to open their doors to the public. Venues include churches, skyscrapers, theaters, concrete plants, architecture firms, historic houses – the list goes on and on.
Anyway, Amy and I were only able to go out on Sunday of this year, so our selective short-list was; Aon Center, bKL Architecture, Radisson Blu Aqua, Columbia Yacht Club, Joffrey Ballet/Tower, and The Kemper Building.
The challenge with Open House Chicago is getting unique photos. With so many talented photographer descending upon the same prime views, with roughly the same weather, it can be tough to capture truly distinctive images. Given that, I challenged myself to get creative and make a few images that weren't my typical, saturated-wide-angle-cityscapes (although I did get those, too). So here are a few of my favorite a-typical shots from Sunday, followed by a big gallery with the rest of my shots.
Prudential | Mirrored Portrait: Two Pruudential Plaza looks amazing from the 71st floor of Aon, it inspired me to create this mirrored close-up detail shot of the crown. With a little burning, I added some subtle shadows to give this image a 3D look.
Blueprint | Aqua: I've always loved the look of classic blueprints, so I worked up a custom filter to try and approximate that feel. This close-up crop of Aqua was captured atop the Radisson Blu Aqua's third floor recreation deck.
Criss-crossing The Great Lawn: I've always wanted to create a really graphic photo featuring the Pritzker Pavillion trellis and the vantage point provided by Aon was great for this. A challenge I had to work around were the many patches of dead grass where tents and vendors recently stood. To avoid that, I converted the image to black and white and manipulated the yellow/green color channels to balance the difference in grass color for a smooth black background.
Prudential Portrait: This is a fairly standard look for me, but I took it a few steps further by masking out the buildings and blurring the background to isolate Two Prudential from the rest of the cityscape.
Night falls on Marina City: The views of Marina City from the Kemper Building are pretty great, but I wanted to make this image unique. I converted it to black and white and then inverted the colors. The formerly bright white sky turned a dark grey-black and all of a sudden, it looked like a night scene complete with a brightly lit Marina City. To fully sell the 'night' look I masked out the original sky, revealing a star field I created with the noise filter.
Mixed messages: I was editing this photo of AMA Plaza, taken form the Kemper Building, and I couldn't decide on the white balance I liked best for this textural shot. So I split it down the middle.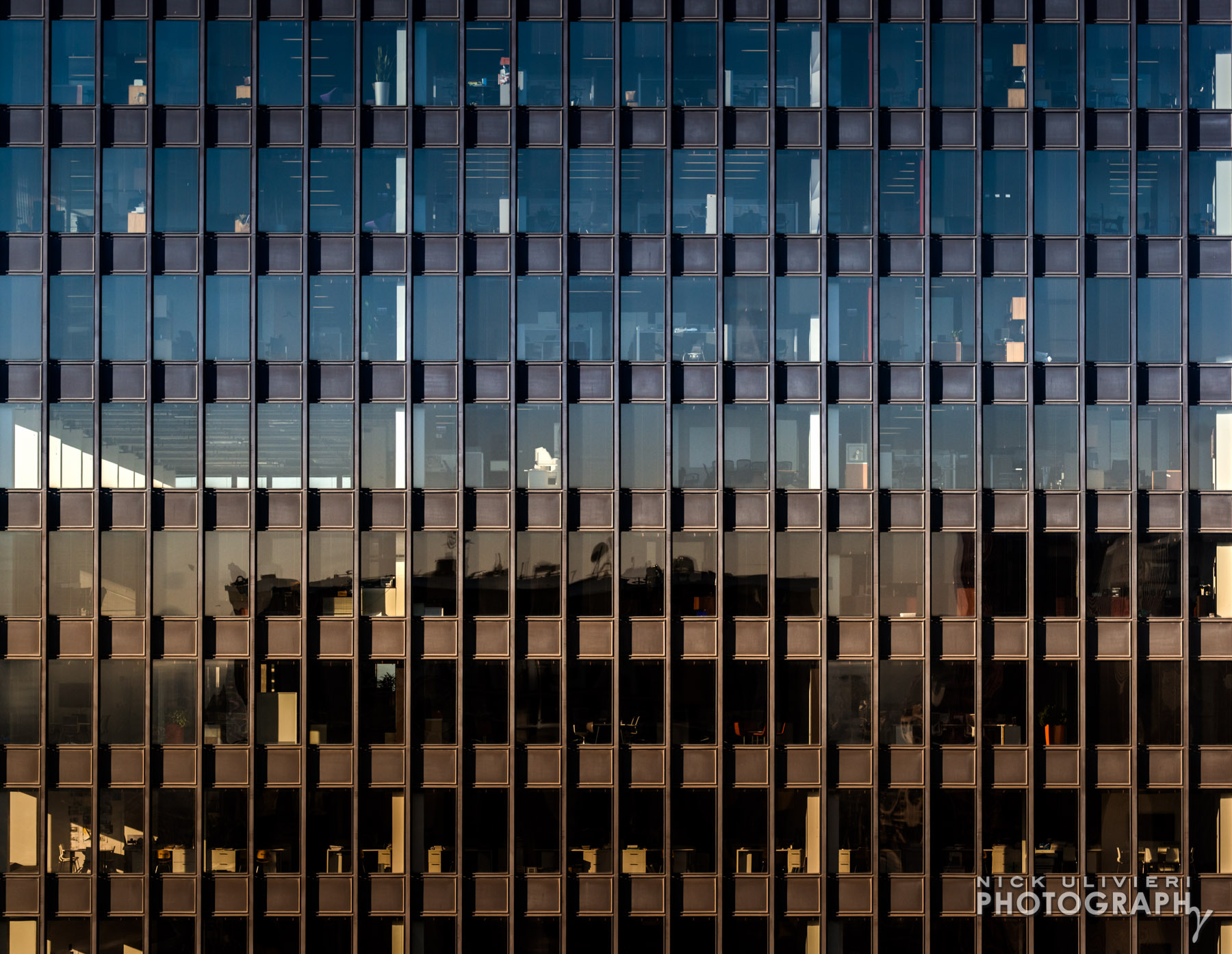 _______________________________________
Prudential2: Yes, another shot of Prudential, which was many shooters' muse during OHC2015. This was my first attempt at altering a standard shot of Two Pru. The right half of this image is the original frame. I converted it to Black and White then inverter the top quadrant. After that was done. I coped the layer, and simply flipped it and reversed it to create this graphic pattern.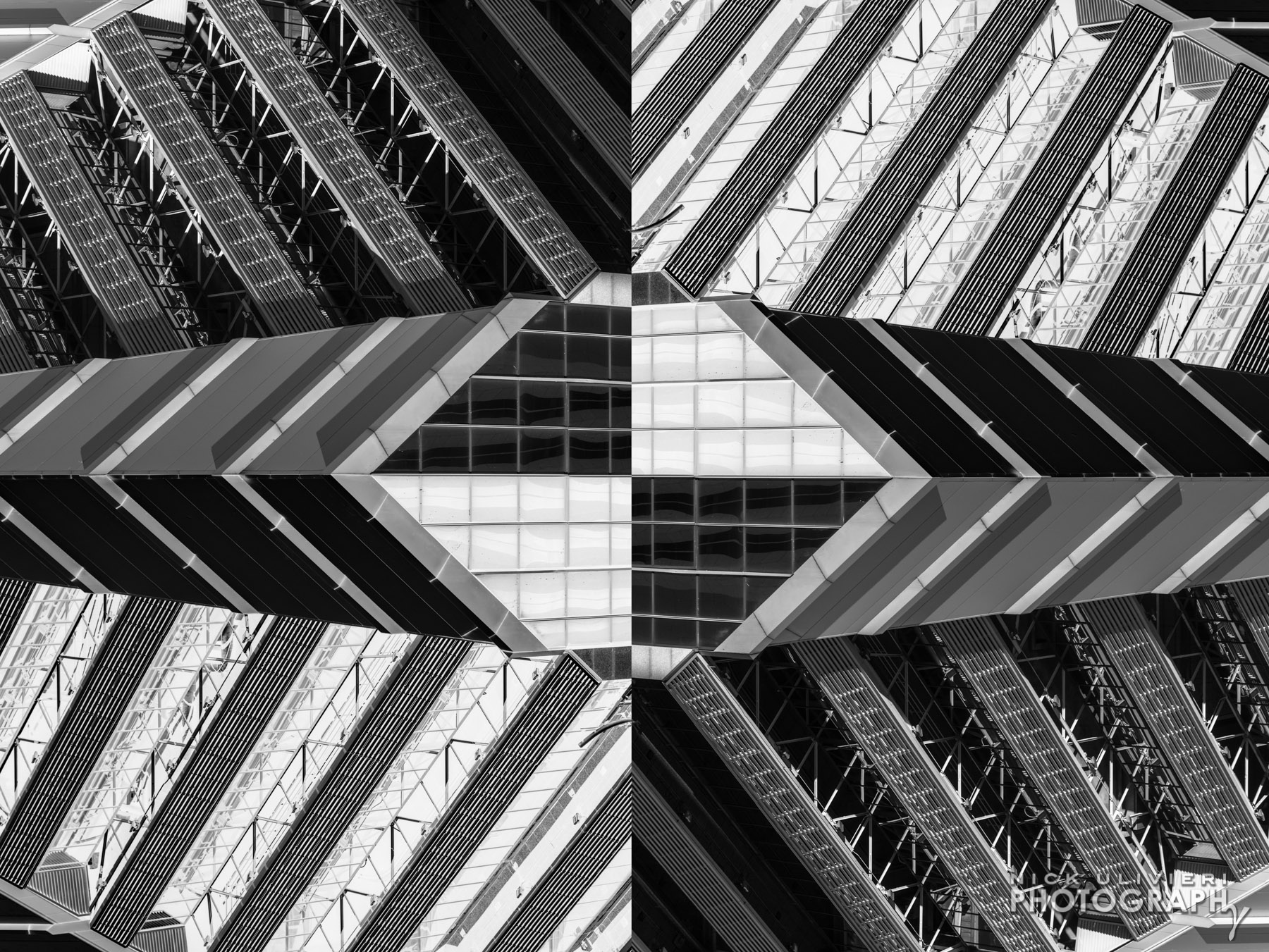 _______________________________________
P.S. If you want to see more photos, make sure to check out the #ohc2015 hashtag on Instagram to see what everyone else experienced this weekend.