On location: A Bird's Eye View of Harborside International
Just a few years ago, if you asked me if I wanted to take a helicopter ride I would have said yes. If you then told me there would be no door and I'd be leaning out of the craft over 2,500 feet in the air my answer most definitely would have been no. But then I picked up a camera and my desire to get "the shot" far outweighed any fear of heights I previously had. So when it came to my final photoshoot of Harborside International, I couldn't wait to see what kind of photos I would get hovering high above the course in a Rotorzen helicopter with the brand new Nikon D800.
The aerial photoshoot was weeks in the making. The weather had to be photogenic, the course had to look good, and I didn't want to interrupt an early morning golf outing with the repeated thud of rotor blades. Even if I had all of that going for me, an unavailable pilot would derail the whole plan. Luckily, everything finally fell into place in the first week of August. My secret weapon, WGN meteorologist Mike Hamernik, confirmed cooperative weather; the course superintendent confirmed a clear and clean course; and my pilot at Rotorzen was available for my desired departure time. The shoot was booked for the first day of August.
Shoot Day
It was early Thursday morning when I showed up to Midway Airport to catch my flight to the course. My pilot, Ryan, greeted me at the Atlantic Aviation terminal at Midway in his flight suit…which put my photographer's uniform of jeans and a v-neck to shame.  After a cup of coffee and a quick review of the course map and the shot list I developed, we headed out to the tarmac. We passed several small private airplanes before reaching the Robinson R-44 Helicopter.  A small and lightweight craft, the R-44 features a dual-bladed rotor and enclosed cabin – but not on this morning. I had requested that my door be removed so that I could have an unobstructed view while shooting; you never want to shoot through glass unless it's the only option. After bucking myself and my gear in, then going over a few safety precautions, we were ready to fly.
The engines spooled up, the rotor started spinning, and the unmistakable beat of the rotors could be heard increasing in rhythm. A few moments later we were off the ground headed southeast towards the golf course. We ascended nearly straight up and a birds-eye view of Midway Airport quickly came into focus. Giant airliners were taking off and landing just a few hundred feet under us, while the moisture-wrapped skyline punched through an even thicker blanket of vapor hugging the ground. I couldn't just enjoy the view for too long, I had work to do.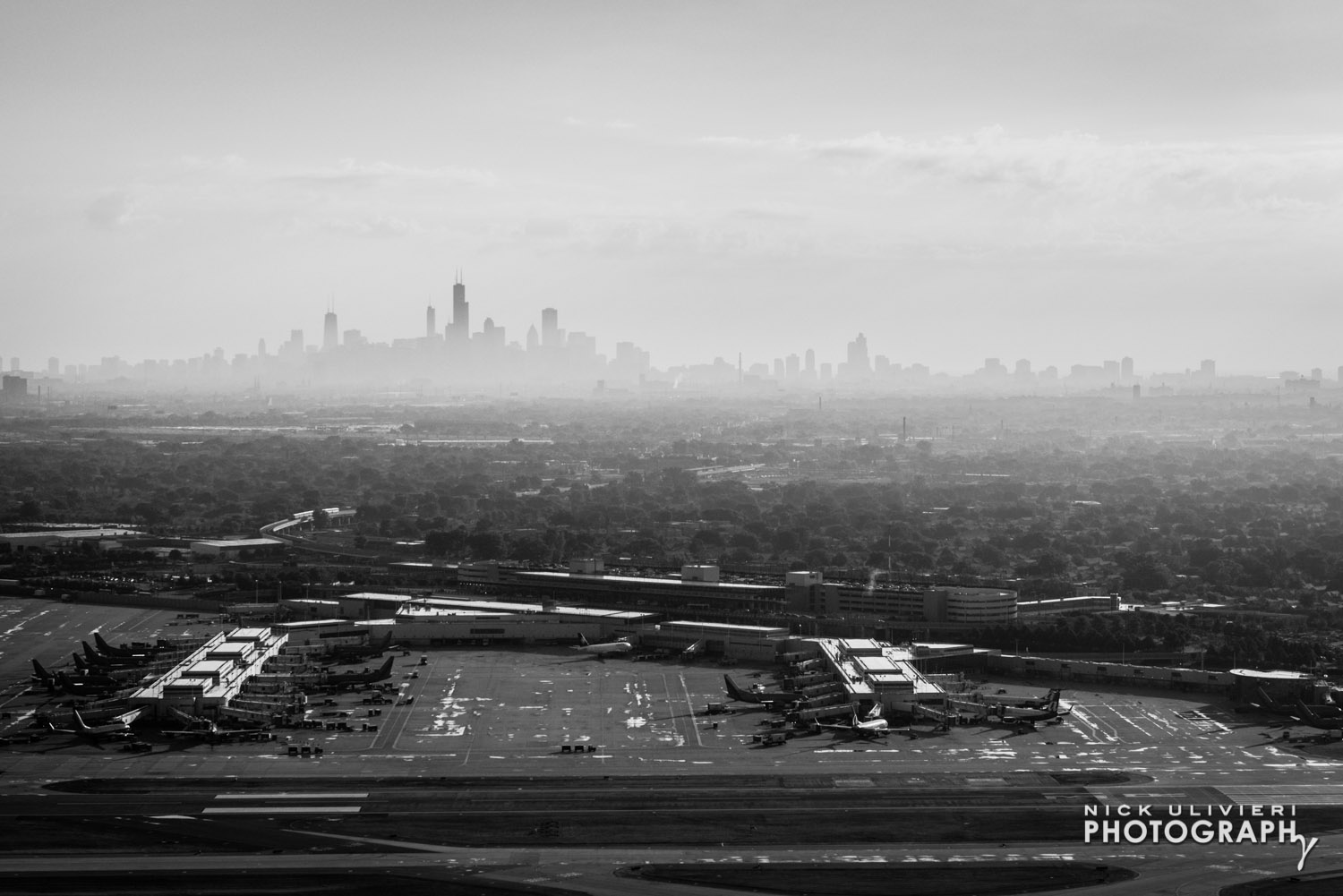 This was my first project shooting with the Nikon D800, so I was feverishly taking test shots as we flew to the course to hone the settings I would be using.  Not only would I be shooting from a moving platform, but the rotational forces of the rotors translate into a heavy vibration in the cabin so the key to sharp, blur-free aerial photography is a fast shutter speed. Not more than five or six minutes after taking off, we could see Lake Calumet in the distance. Moments later, the brilliant green of the golf course began to pop through the lessening atmospheric haze.
We swooped down to about 200 feet, and we set up for our first shot. Ryan put us into a slow hover, which was great. It gave me a steadily changing angle on the course, but it was smooth and gradual enough where it didn't hinder the process of shooting.  Though there was vibration, as expected, keeping the camera from touching the helicopter's surfaces lessened it – I also tried to sit straight up so that my back and arms weren't touching the seat.  The secret weapon in all of this was the Nikon D800 and its fantastic ISO performance. Even though it was bright out, I pushed the ISO to around 800 so I could achieve shutter speeds in excess of 1/3000th of a second at f/5.6.
After a few establishing shots, we moved on to the "Anchor". The 15th hole of the Port Course, the Anchor is Harborside's signature hole and the main reason I suggested a portion of the project be dedicated to aerial photography.  Shooting this hole from the ground does not do it justice, but when I saw it from above, I knew I made the right call.
We spent a few minutes, and a few revolutions around the anchor and then moved on to executing the rest of the shot list – and then some. We hit the course from low-angles, high-angles, and everywhere in between. At one point we climbed to nearly 2,500 feet above the course for a "satellite view" of the landscape. About 450 frames later, the photoshoot was complete, and it was time to head back to Midway, then home to start sifting through and editing all of those photos. I can't wait to do it again!
Before I go, I just want to give a huge shout out to Rotorzen for an awesome flight. Based out of Midway Airport, Rotorzen is a full-service helicopter charter company that performs a wide array of aerial services. Aside from standard skyline tours, Rotorzen is a great resource if you're a photographer looking for a custom flight path. My pilot Ryan, a photographer himself, was able to give me some great insight for shooting, and more importantly, he has an eye for good shots and was able to help line up the helicopter to achieve them.
-Nick