Brick by Brick Lego Exhibit at the Museum of Science and Industry
I love LEGOs, I love architecture, and the Museum of Science and Industry's new exhibit, 'Brick by Brick', beautifully blends the two. Brick by Brick contains more than a dozen HUGE lego structures built by Certified Professional and Chicago native Adam Reed Tucker. This guy is a genius, honestly. He envisions these structures in his mind, uses tons of reference materials, then builds and rebuilds the models until he has them perfected – without glue to computers.
Adam's models are impressive, but the coolest part about them is that they demonstrate real-world engineering, construction, and architecture concepts – so this exhibit isn't just for LEGO fans. In addition to the models, there are a bunch of interactive displays: You can build and test structures to withstand earthquakes at the tremor table, and build to try and hold up to heavy winds in a wind tunnel. This is temporary exhibit so make sure you check to out before it leaves in February 2017.
Here are some photos of my favorite exhibit pieces:
Burj Khalifa: (featured above) This model is 12′ tall, took 16,500 bricks, 45 hours to design and 60 hours to build. I edited the photo to resemble a blueprint. The actual building is about 227x taller than this model, by the way.
_____________________
ISS: This is one of the smallest models in the exhibit, but it's still impressive. In order to create the space station's solar panels, Adam needed to source 2,500+ gold bars from Harry Potter LEGO sets.
_____________________
I-Beam: This isn't a LEGO model, but it's one of the cooler interactive exhibits. The I-beam test allows you to virtually walk above the city of Chicago and test the sturdiness of different structural beam designs.
_____________________
World Trade Center: The World Trade model stands ten feet tall, and took Adam 25,000 bricks to complete. The model is completely hollow – no internal super structure holding this up.
_____________________
Ping An Finance Center: This model is my personal favorite. Adam's attention to engineering detail in this building is impeccable. The cut-away view of this building allows you to see the multiple phases of construction – all the way down to the bell-shaped footing of the foundation caissons. Adam was even able to illustrate rebar with silver antennae from Star Wars sets.
_____________________
Golden Gate Bridge: In terms of size, this model is the star of the show. It's one of the first pieces you see and instantly grabs your attention. The bridge measures an impressive 60 feet long. It took Adam a combined 475 hours to plan and build this 64,500 brick behemoth – but here a detail shot of the bridge's North tower.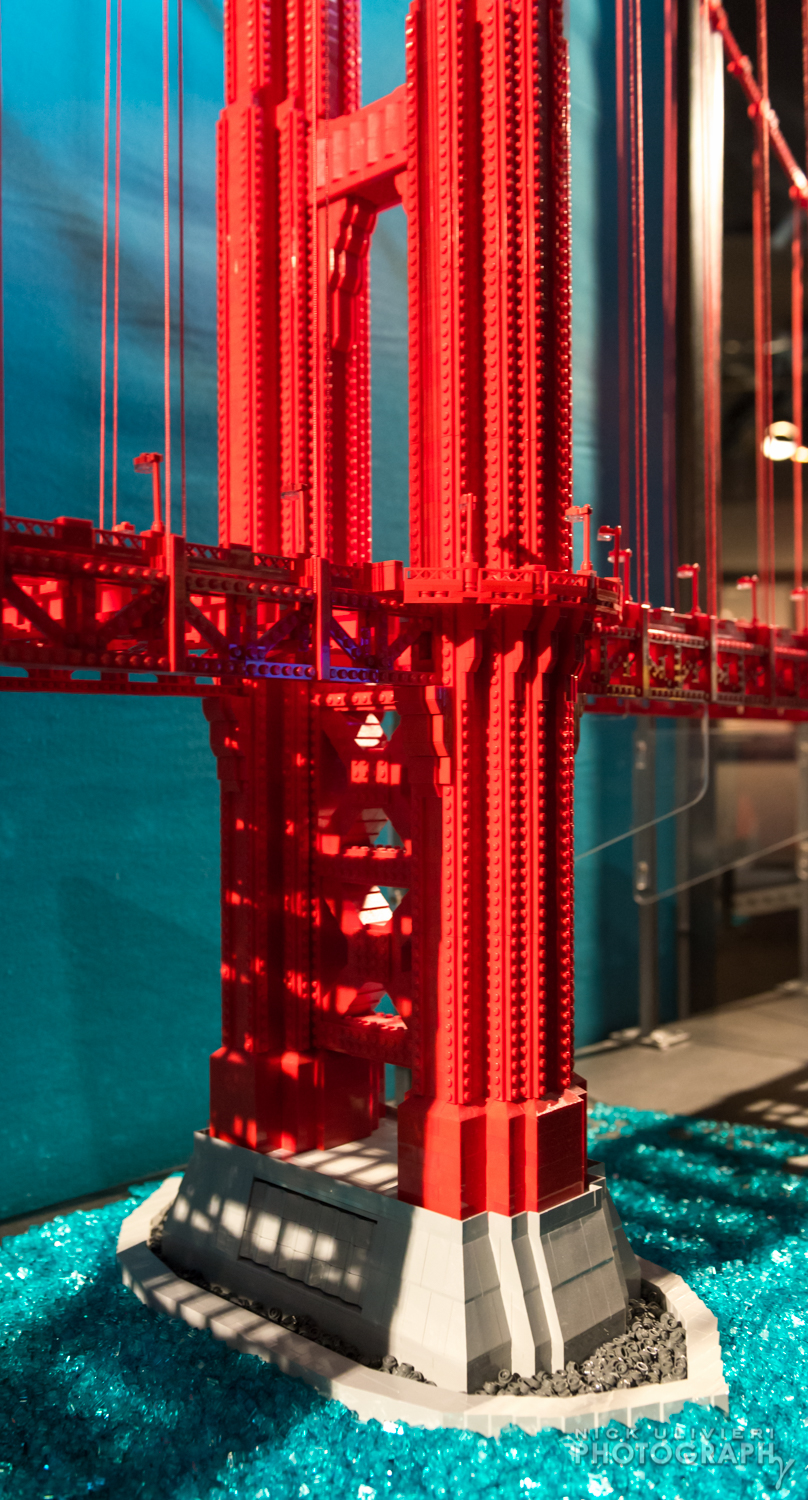 _____________________
Colosseum: Not all of the LEGO models are modern. This recreation of Rome's Colosseum is over six feet long and took 22,500 bricks to complete. The oval shape is challenging to build so it took Adam nearly 12 design iterations before he had it right.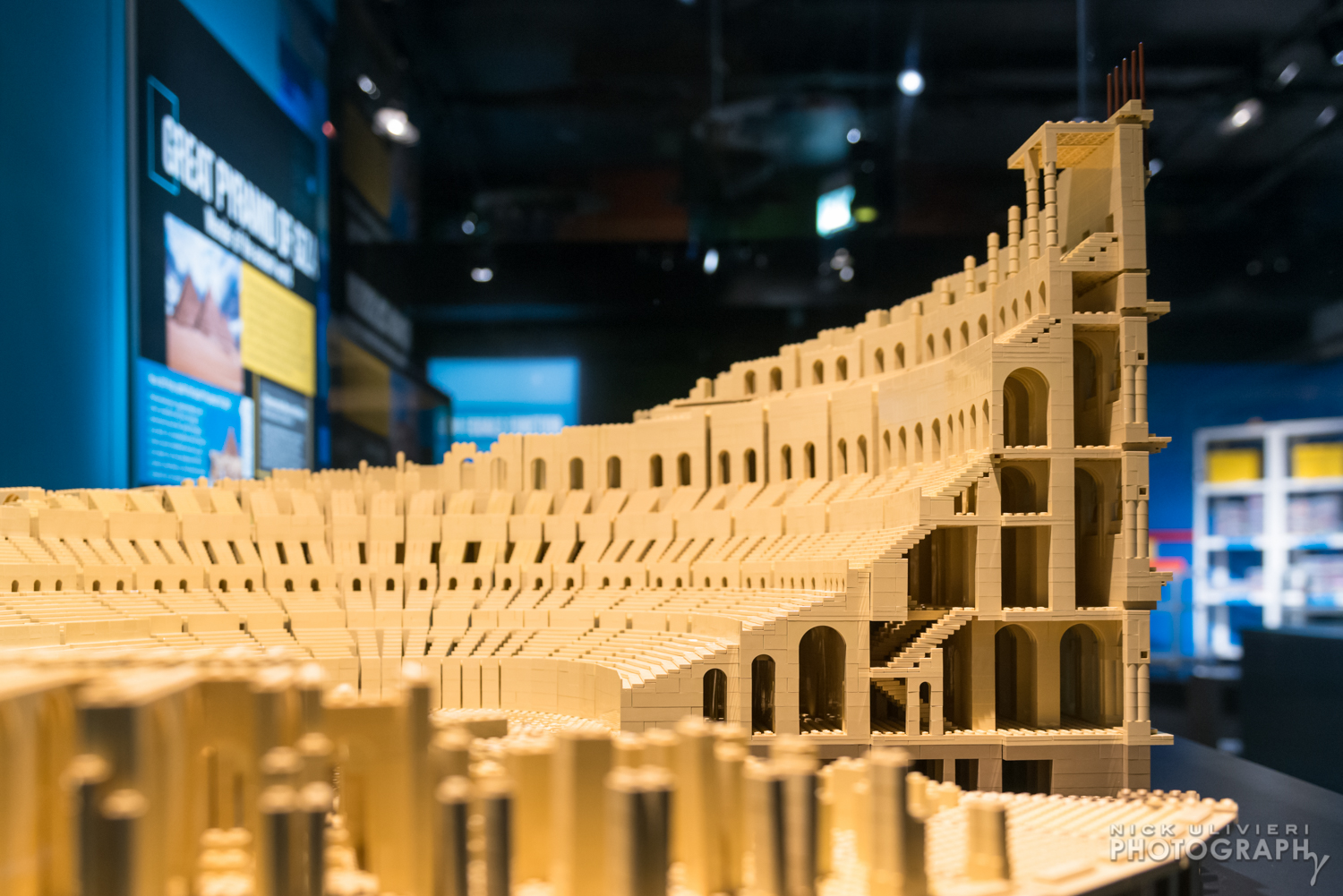 _____________________
I hope you enjoyed this mini-tour of the exhibit. There's plenty more to see in person. Let me know if you check it out and what your favorite model was. A big thanks to Choose Chicago for making my early morning visit possible, too. And if you want to see more of my photos from the exhibit, check them out here