Behind the Scenes – Chi-Town Rising
Amy and I had a pretty crazy New Year's. Just a few days before the festivities, Hyatt reached out to me to see if I was interested in partnering with them to capture images in and around Chicago's inaugural New Year's Eve celebration; Chi-Town Rising. Of course, I couldn't resist this project. I was planning on attending and photographing parts of the event anyway, but to create photos for a client is much more rewarding.
One of the fun parts about this project (because challenges are awesome) was that the images needed to be delivered on New Year's Day – by 11:00am. The turn around was incredibly tight, so instead of leaving the party early and wasting time trying to get home before editing, Hyatt put us up in a roomy junior suite at the Hyatt Regency Chicago – smack dab in the middle of the action. After we checked in, the first order of business was to set up the mobile edit bay – and check out the view.  In retrospect, I probably should have set-up the GoPro to record the fireworks from our window – would have been epic. Maybe next year…
Once we were set-up and situated, we bundled up and headed north on Michigan Ave to do a little scouting. About a week earlier I had arranged to photograph the fireworks and star rising from the Realtor Building's rooftop. The vantage point for a wide-angle shot of the event couldn't get much better. We dropped off some equipment, took a few test shots, and tried to steal the star.
And then it was back to the hotel for a big meal and a quick cat nap before it was really time to work. Though on a project like this, work is hardly work. Fast forward a couple hours and the gates had officially opened to Broadcast Boulevard – center stage for Chi-Town Rising. So, we bundled up again and hit Wacker Drive to get some up-close photos of the start and the stage.
I ventured down to the riverwalk the night before to take a few test shots of the star (check it out here) from afar. But at 70′ 6″ tall, it was even more impressive up-close. It must have been exciting for any hotel guest lucky enough to get a room on this side of the building. I would have loved to see what it looked like from the backside as it rose. No shortage of led panels, lights, and cords I'm sure.
Over the course of the night we had a few assignments, so we were never in one place for too long. After an hour or so out on Broadcast Boulevard, we had to head back up to our room and change into something a little more formal. Next stop, the Hyatt Gold Passport VIP party. The raw bar, fresh sushi, carved meats, passed apps and full bar ensured no guest went hungry or thirsty. Also included was a outdoor viewing terrace that provided an an up-close-and-personal seat to watch the star rise. Since we'd be on the rooftop at midnight, we had to stage this photo (sorry for the spoiler, but I couldn't be in two places at once). No one seemed to mind an early glass (or two) of champagne in order to get the shot.
Capturing Hyatt Gold Passport branding was an important element of this project. Amy and I stepped outside to check out the view of the terrace and found this bold light projection on the cold, salty ground. I had her walk back and forth to get the movement just right. The funny part was when other people passed by and saw me taking photos they stopped walking! Normally I don't want people walking through my frame, but this time it would have been perfect. As much as we wanted to hang out and capture this party, we were on a strict timeline and we needed to head to our next location – the rooftop!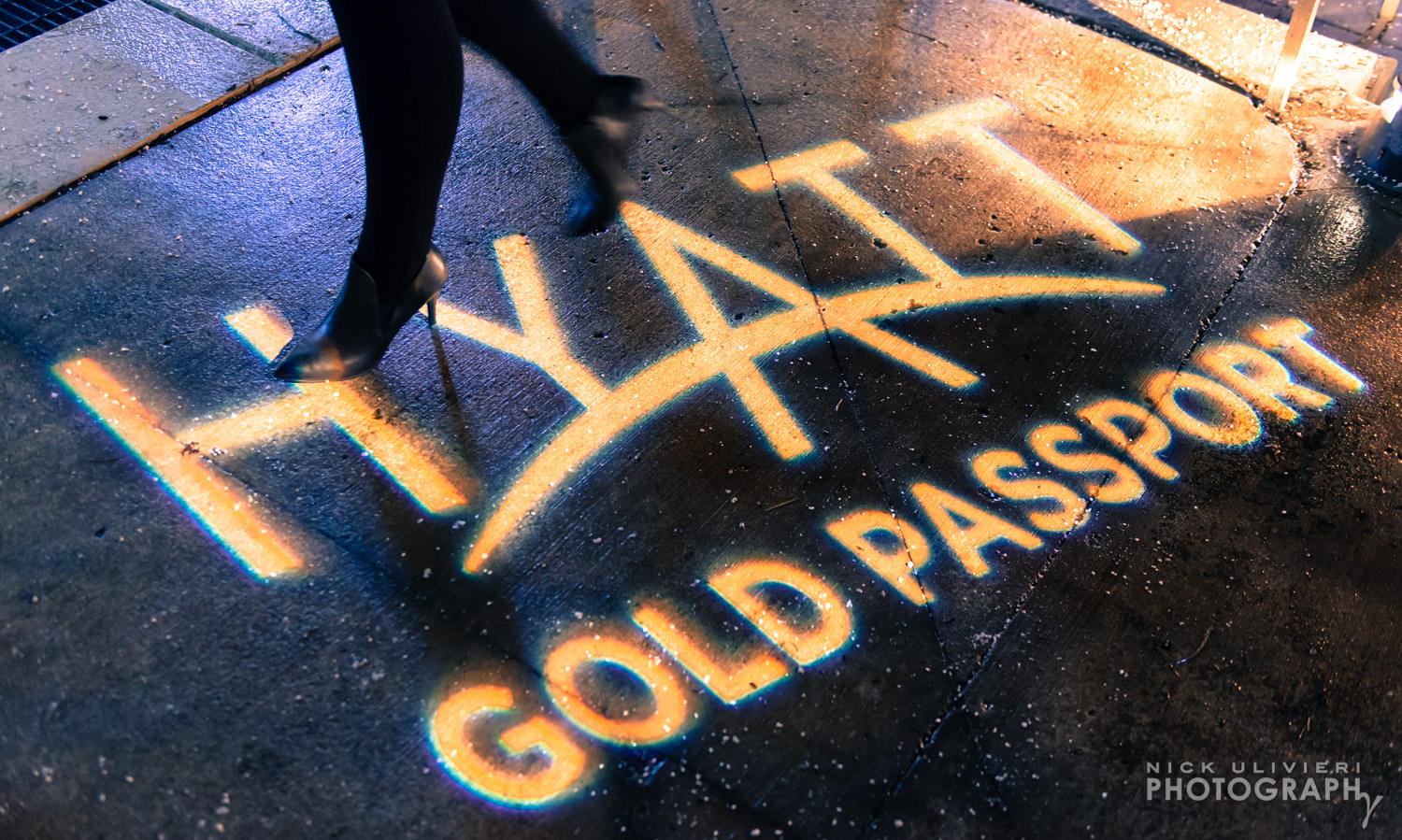 The night seemed to fly by. This probably had something to do with the number of wardrobe changes required. Since it was coldest night of the season, our last 'look' of 2015 was cold-weather tactical. Dress to impress, they say – look at those suspenders! With all of our equipment in tow (and maybe a bottle of bubbly) we fought the crowds across the Michigan Avenue bridge, key-fobbed our way into and atop the Realtor Building, then set-up for the fireworks and star rising.
Once we arrived, a sense of relaxation finally washed over us. For the past 5+ hours I was so focused on getting the shots the client needed. But now, I could focus on the shots I truly wanted to get (Hyatt wanted them too, of course). The view from the roof was incredible, and being in the middle of everything, while being alone was pretty surreal. We arrived up top around 11:15pm and had nearly 45 minutes to kill before the 2016 celebration really kicked off. Pioneer Court (next to Tribune Tower) was filling up fast – and Michigan Ave ground to a halt.
After countless test shots, and a few glasses of champagne (it is New Year's after all) the fireworks and star rising was finally approaching. In the distance we could hear American Authors playing, then finishing up their set. Then, the unmistakable horns that kick off Chicago's '"Does Anybody Really Know What Time It Is?' could be heard reverberating between the buildings and the star began to rise. I started shooting long exposures (around 13-15 seconds), and moment later fireworks started exploding. And just like that, it was 2016. Once the fireworks ended, and the crowds dispersed, we headed back to the hotel for what would be our final trip of the night. It was nearly 1:30am and I still had a few hours of editing ahead of me. By 5-something AM I had the shots edited, uploaded and off to the client. What a way to ring in 2016.

Here are a few more photos from the night.