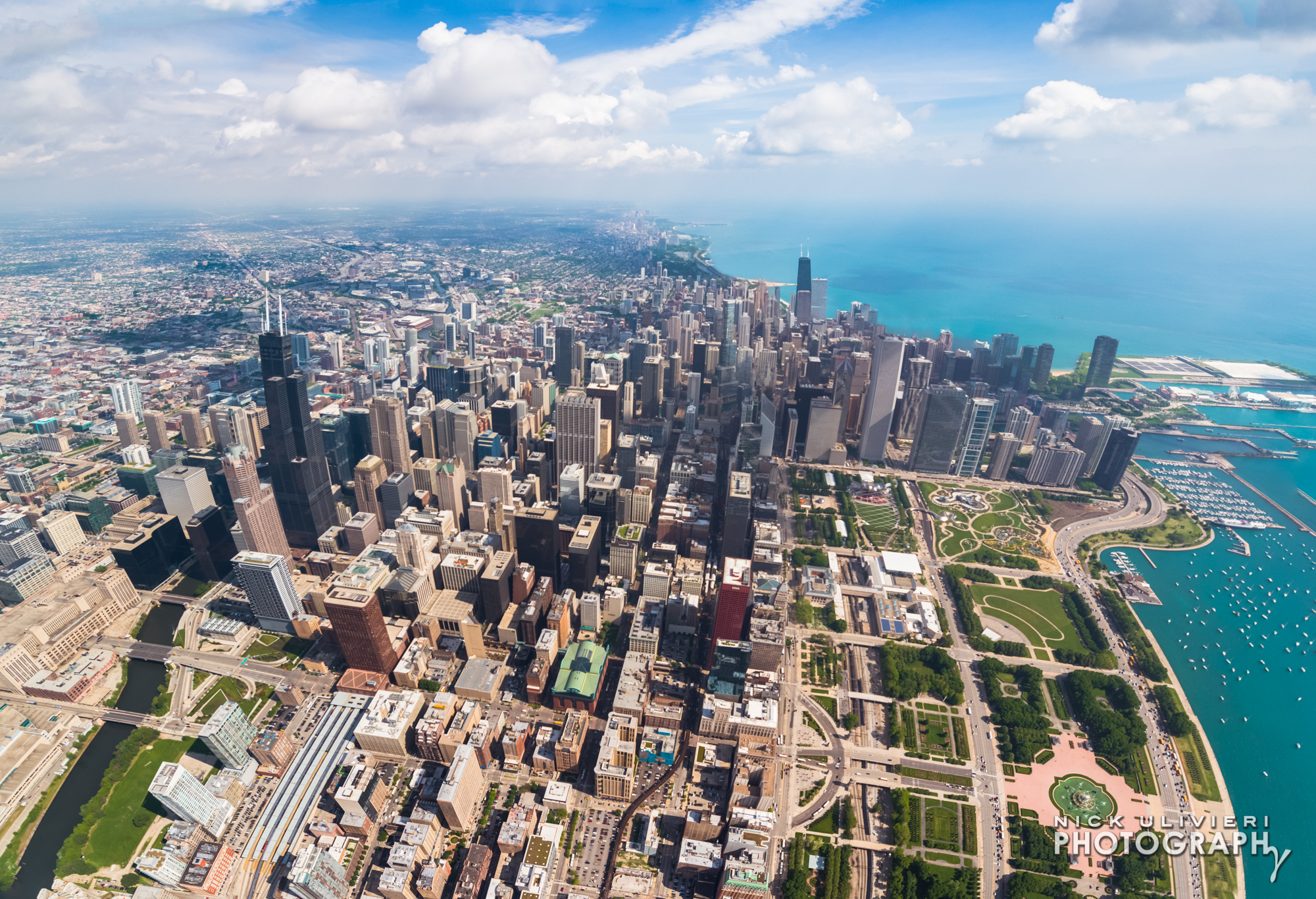 Aerial Photos 3,800 Feet Above Chicago
On Friday afternoon I hopped a doors-off flight with Rotorzen Helicopter and took to the skies to shoot an aerial photography project for a good client of mine. The weather couldn't have been better. It was so good in fact that after I finished up my client shoot, I took a few loops around The Loop to gather some photos for my personal collection. The threat of thunderstorms in the afternoon actually aided my photos – I think. The building cumulus clouds, and slight humidity-induced haze added a really nice layer of depth to the images. If there's one thing I don't like photographing, it's a perfectly blue, cloudless sky.
But this blog post is more about the featured image than the weather. In my past flights, we've adhered to flying well under the 3,000′ max altitude restriction give to aircraft, but on this day, we were able to climb to 3,800′ with clearance from O'Hare's Air traffic Controller. From that altitude, the city gets much smaller. The way you feel about seeing tiny people and cars from the Skydeck observatory is the same way you feel about whole buildings.
I was shooting with my 14-24 wide-angle, but even that wasn't wide enough to capture everything I wanted. In one frame I had captured Buckingham Fountain, but not the cloud tops. In the other, I had some nice cloud tops but didn't have the fountain. My only option at this point was to stitch them together in Photoshop. Admittedly, the stitch wasn't perfect since my position in space changes a bit relative to the frame before, but it was close enough that I could do some additional photoshop work to make it work. Wonder if I can get to 5k next time…
I added a few shots to this post, but have have a bunch more posted to my Flickr page. Check them out HERE