2024 Desktop Calendar
It's that time of the year again! Here's a rundown of all the photos in my 2024 desktop calendar…which is now available in my Etsy store!
___________________
JANUARY: The El Niño weather pattern predicted for this winter may bring warmer, dryer conditions to the Great Lakes, but I always hold out hope for one bitterly cold snap to freeze up the river. It's a sight to behold – especially from atop Salesforce Tower.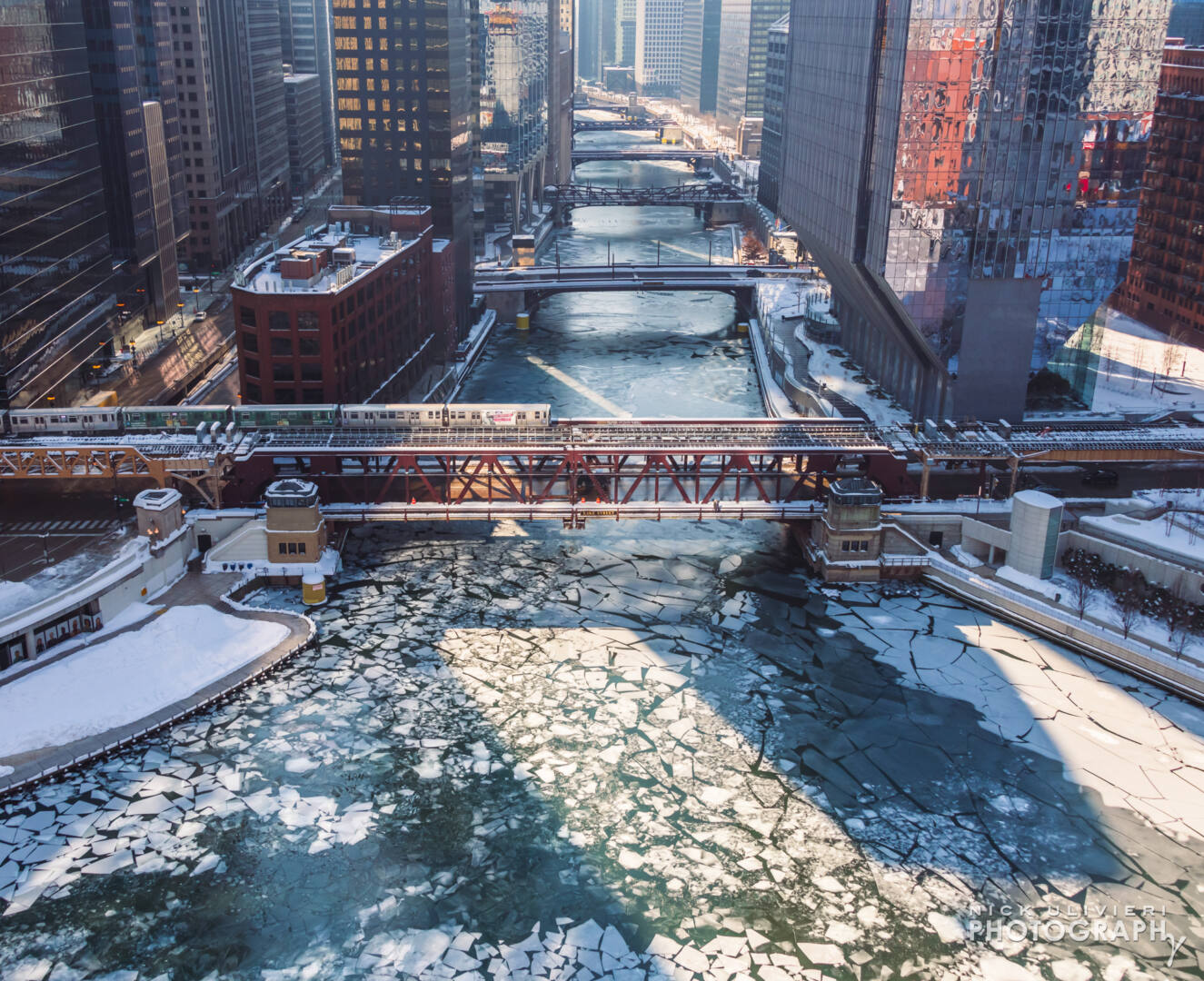 FEBRUARY: This photo was taken in October during a snowstorm on Halloween, but the red leaves and hand-locked couple has always said February to me, so, here we are.
MARCH: What would a Chicago calendar be without a green river photo for March? Here's one from the 2022 spectacle. Thanks to my friends at 401 N Michigan, I was able to photograph the event from within their building.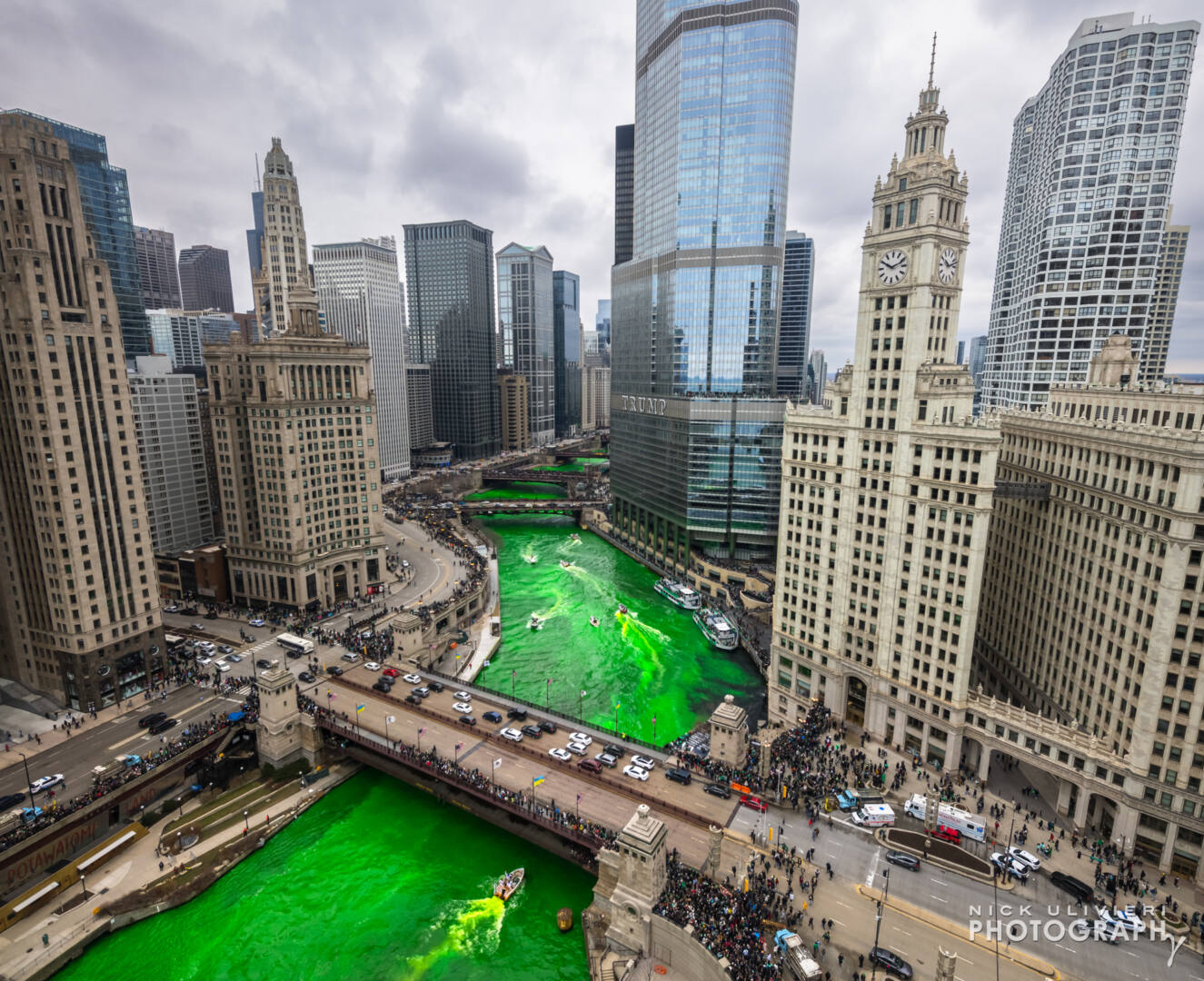 APRIL: Come April, us Chicagoans start thinking ahead to the warmer months, so here's a late-spring aerial to get you in the mood for rising temperatures.
MAY: I share so many wide, sweeping cityscapes that I thought a close-up, architectural detail shot would be an nice change of pace. Pictured here is the Carbide & Carbon building – photographed from a neighboring rooftop. 
JUNE: I've been flying my drone more and more this year to gain confidence – remote controlled, mobile cameras aren't exactly a breeze to use. Here's a morning look back at the skyline from above Northerly Island with Burnham Harbor busting at the seams with boats and yachts ready for summer.
JULY: I've been partial to sharing Mother Nature's fireworks for the July photo for the past few years, and that tradition continues. This was shot from #NUPHQ (e.g. my balcony) during an early April storm. I wasn't expecting much but this major bolt dropped out of the sky at just the right time.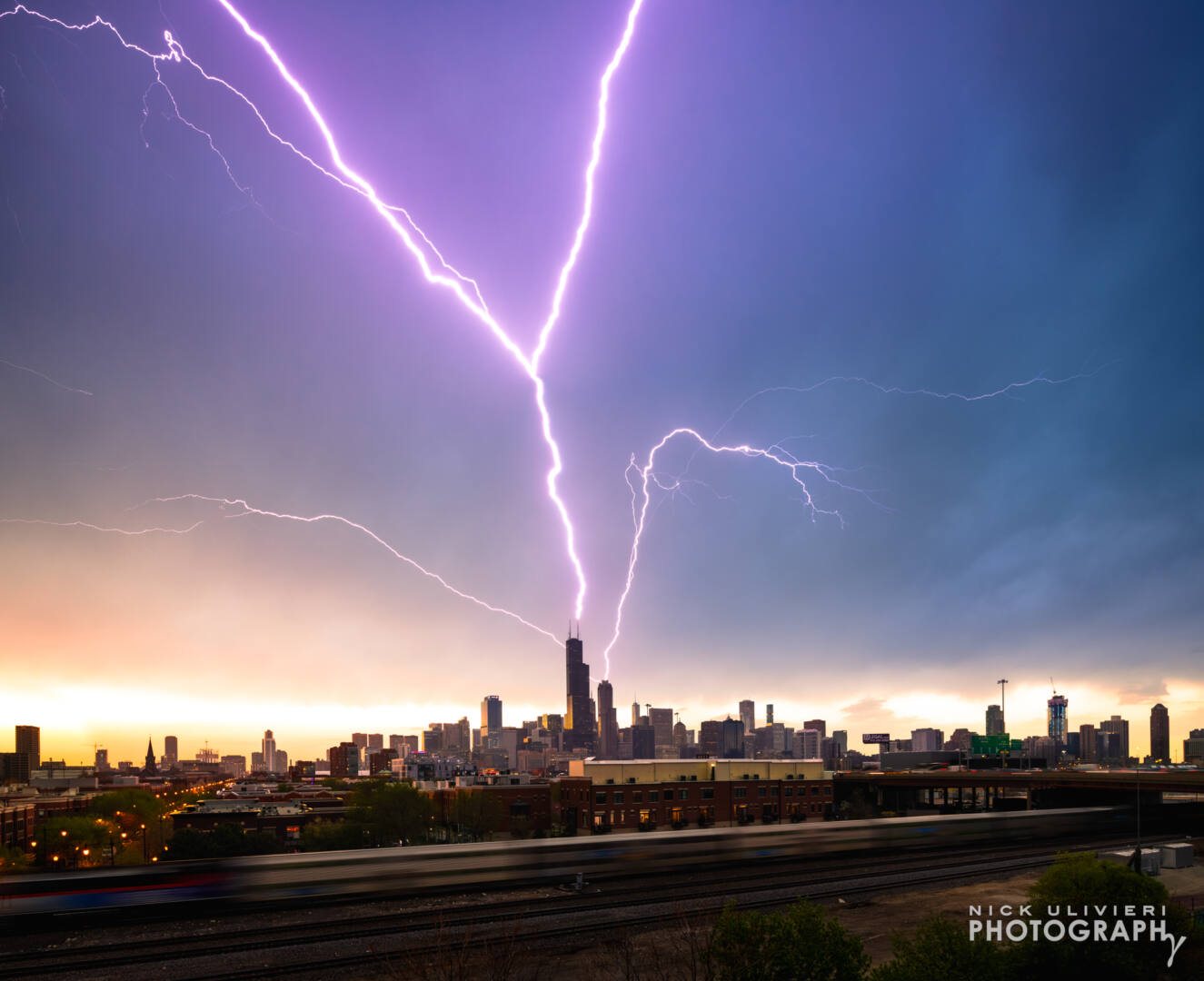 AUGUST: You might think this is an aerial photo, but it's actually taken from the roof of 1000M – the latest skyscraper to grace Chicago's skyline. What a view, huh? I was atop the structure to take some photos of the final concrete pour for my friends at McHugh Concrete.
SEPTEMBER: September is bridge lift season when all the boats make their way back to harbors for winter. And while the bridges aren't lifted in this photo, the warm fall light and few boats heading away from the Lake had me thinking this is a good end-of-summer photo.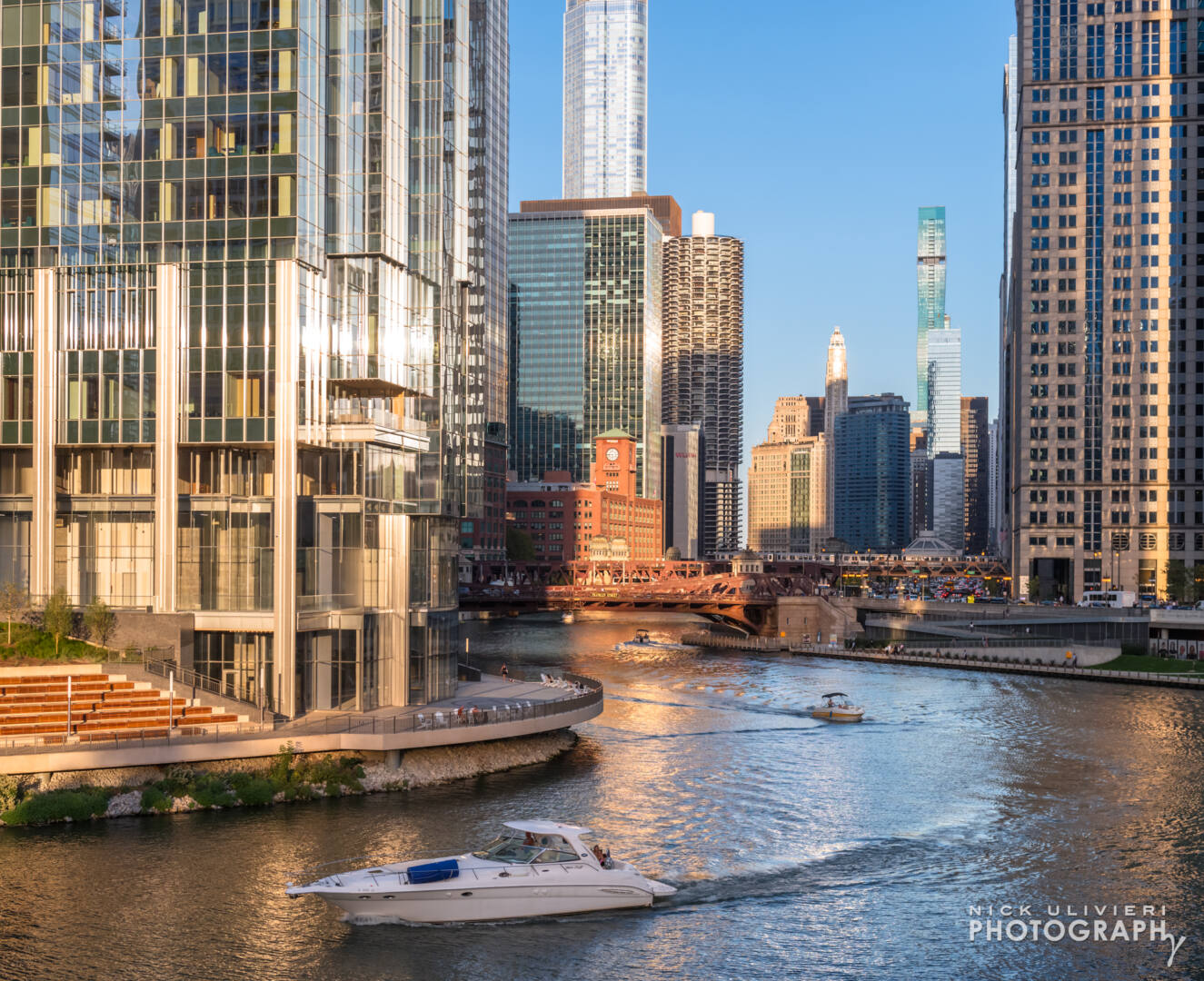 OCTOBER: Me and sunrises don't get along. Never did. Unless I have to be up early for a photoshoot, I rarely choose to wake up early. But when the sun rises after 7:00am in late October I can more easily justify it. The fall colors took their time to arrive in 2023, but when they did, Maggie Daley Park and Millennium Park put on a show from above.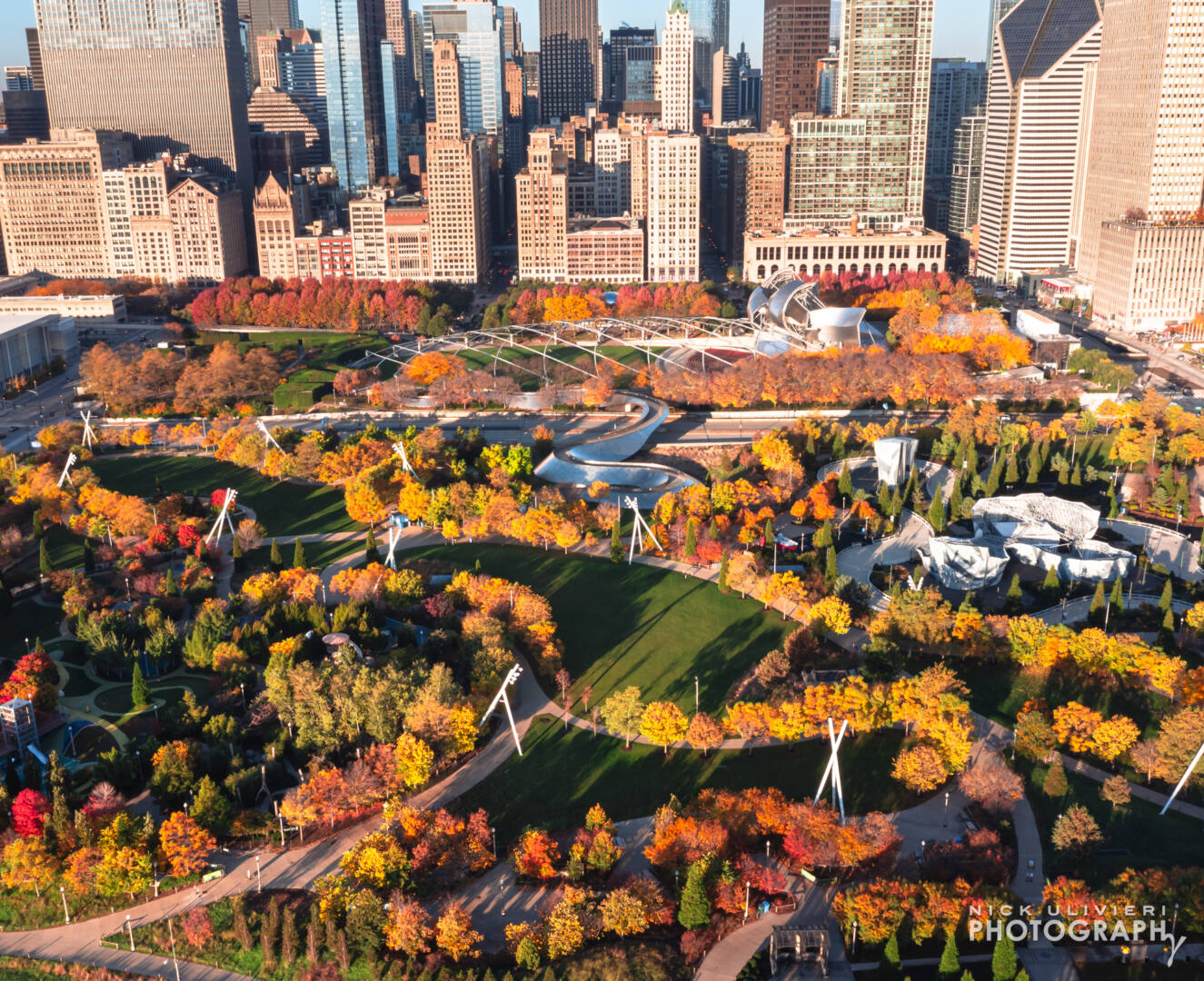 NOVEMBER: I don't take many moon-over-the-skyline shots, but when I saw this I scrambled to catch it. I didn't have a good reason to use this in November, I just wanted to get it in the calendar. But as luck would have it, it turned out I actually shot this in November of 2022! Depending on how you celebrate, the November full moon is known as "the Beaver, Frost, Frosty, or Snow Moon; Kartik Purnima; the Karthika Deepam, Karthikai Vilakkidu, or Thrikarthika Festival Moon; the Loi Krathong Festival Moon; the Bon Om Touk ("Boat Racing Festival") or Cambodian Water Festival Moon; the Tazaungdaing Festival Moon; and Ill (or Il) Poya." (source: NASA)
DECEMBER: Well, it's winter again. Cold can be beautiful – especially with enough layers. I took this photo during a bitterly cold helicopter flight a few years back after the lake had partially frozen. It was painful, but amazing to see and experience from 1,500+ feet above the Lake Michigan.
Stay tuned for a purchase link!