2022 Desktop Calendar
It's that time of the year again! Here's a rundown of all the photos in my 2022 desktop calendar. All taken within the 2021 calendar year, I might add!
Don't need to go any further? Order your calendar today.
___________________
JANUARY: What better way to ring in January than with an image of the Chicago Theatre marquee wishing you a Happy New Year? A slightly long exposure added some motion to the bus, while my flash 'froze' some of the snowflakes falling through the air.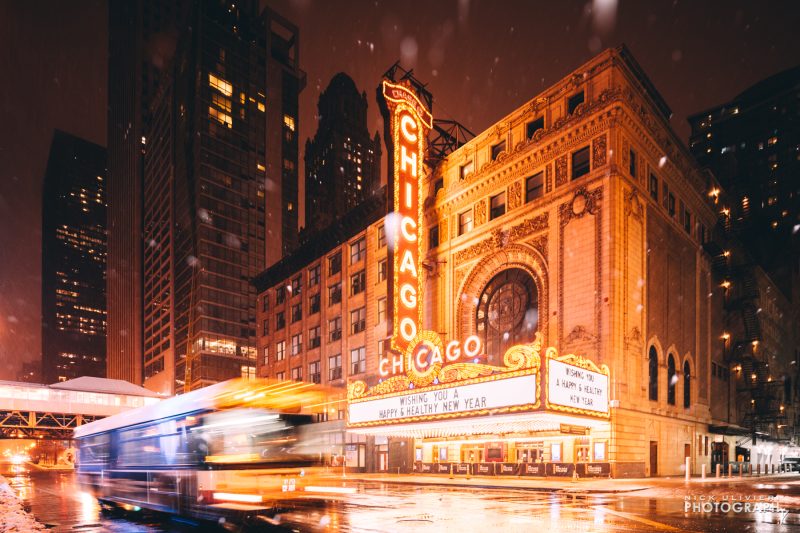 FEBRUARY: February is historically a red month – Valentine's Day and what not – but the natural color palette is decidedly more blue. Last February, in the depths of winter, the ice piling-up along the lakefront made some spectacular frozen formations. In this frame, the skyline is framed through a miniature ice cavern. Check out a few more shots from that morning on Instagram.
MARCH: This is just a gorgeous blue hour cityscape taken from The Clare's rooftop. There's not much more to it. I summited the tower (with permission) to take some construction progress photos of One Chicago. If you want to see the rest of those photos, check them out here.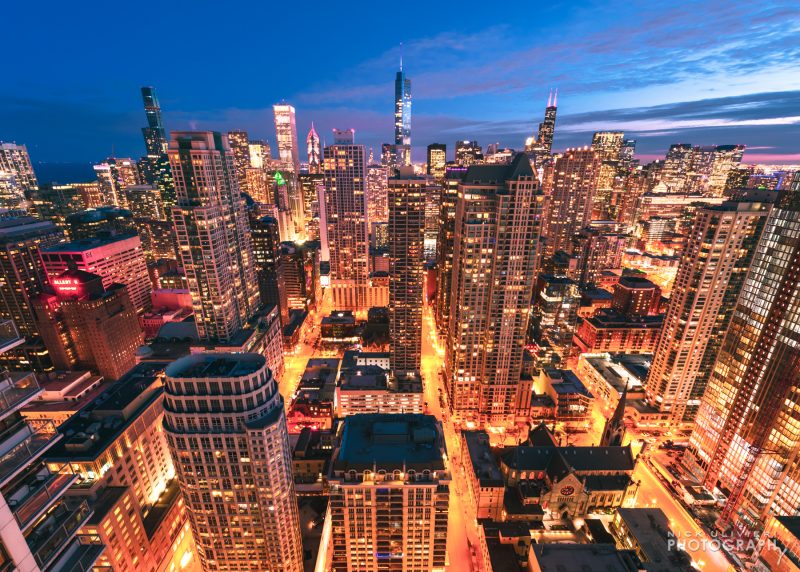 APRIL: Admittedly this is a summery shot, but by the end of March we could all use a reminder of what summer looks like in the city. I took this photo via helicopter while circling around downtown for a client project.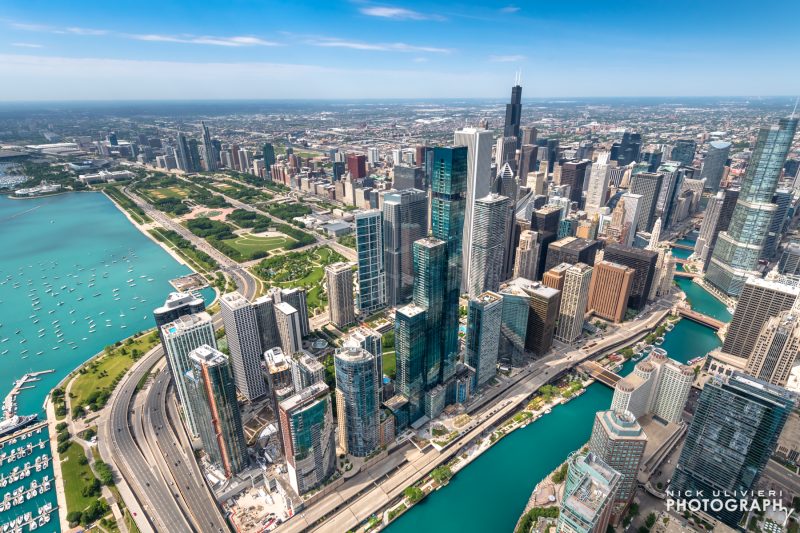 MAY: I know the saying goes April showers brings May flowers, but in my experience, May results in some of the most dramatic skies of the spring. This photo, taken from the lakefront path near the Adler Planetarium features some wisps of fog weaving through the skyline while a colorful sunset happened in the far distance.
JUNE: In early spring I finally received my Part 107 license to operate a drone commercially! While I don't fly it often, I do use it strategically for projects when necessary. But in this case, a practice flight along the lakefront resulted in a gorgeous photo of Northerly Island – one of my favorite spots in the city. If you're wondering what that pier is running through the center of the lagoon, it's an artifact of the 1933 Words Fair marking the island's (then) eastern edge. Check out this tweet to see the island's original outline back then.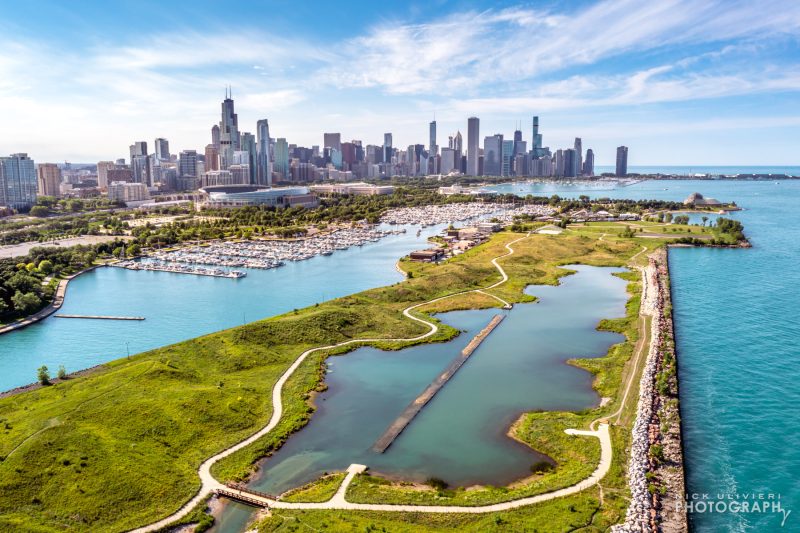 JULY: The year I gambled on capturing Chicago's fireworks from a different vantage point. Unfortunately the geometry didn't work out and the "extra high" fireworks weren't quite high enough to capture them behind the skyline from the Chicago Avenue bridge. All was not lost though. I took a 'focus-pulled' frame and blended with a sharp frame to create this dreamy, sparkler-like scene.
AUGUST:  After a year off due to COVID, a downsized version of the Chicago Air & Water Show took place in August. Instead of a full slate of acrobatic planes and skydivers, the U.S. Navy Blue Angels were the only act to perform. And instead of my usual spots near show center, I tried a different spot this year. I photographed the Blue Angels' new Superhornets in formation from Navy Pier on their approach to show center.
SEPTEMBER: By late September, the sun literally sets on summer. I made this photo on the autumnal equinox – the day summer astronomically flips to fall. Locally known as 'Chicagohenge'  the sun lines up with Chicago's east/west streets for a couple days near the spring and fall equinoxes. In this photo, the sun just passed between Monroe Street and illuminated the north face of the the artif canyon. To learn more about Chicagohenge, check out this blog post.
OCTOBER: Big winds bring big waves. On October 25th, 2021 the waves were massive! I could go on about this photo, and this day in particular, but if you want to learn why the lake was so angry that day, I have a whole blog post dedicated to it – with more photos, too!
NOVEMBER: This is a good month to take a deep breath in preparation for a usually hectic holiday season. So instead of a bustling cityscape, hopefully you'll find a moment of calm with the autumnal vibes of Harms Woods. While not in Chicago-proper, Harms woods is one of Cook County's many forest preserves. In this particular tract of forest the North branch of the Chicago River cuts right through its center.
DECEMBER: Well, it's winter again. Sure cold has its faults, but to me the cold beautiful. Blue ice and blue hour is tough to beat. In this long exposure, the chunks of ice and slush swirled near the breakwater of North Avenue Beach.