2020 Chicago Desktop Calendar
All 150 of my 2020 desktop calendars have sold out! If you got your hands on a calendar, and are here to learn more about the photos – thanks for stopping by!
COVER:  In late spring of 2019, I toured Essex on the Park for a scout visit and found myself atop the recently completed penthouse. As luck would have it, a gorgeous bank of low stratus clouds rolled in a couple hours before sunset. I took some creative liberties with the color to create the purplish color cast.  Talk about being in the right place at the right time.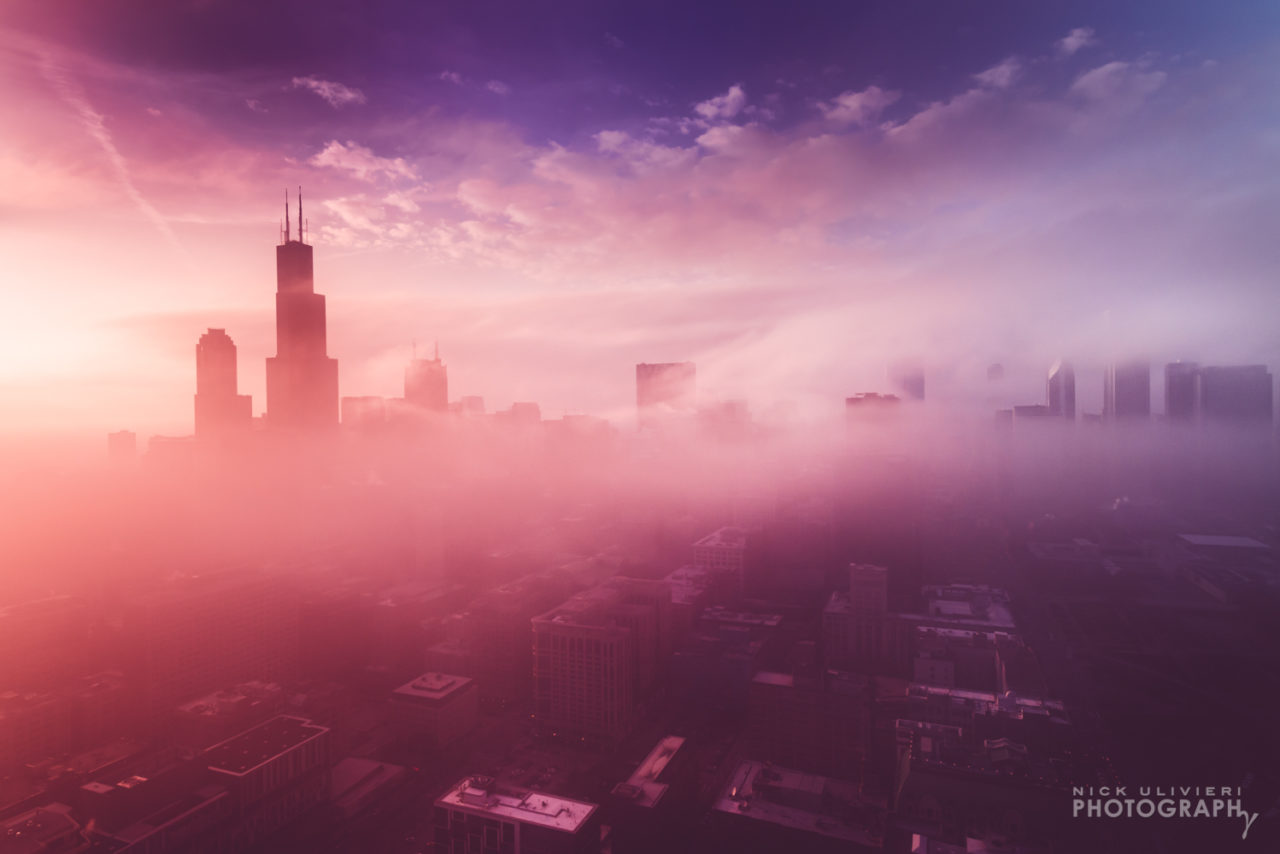 ---
JANUARY: January of 2019 brought another bout of record cold temperatures to the city. While the conditions were't comfortable to shoot in, they were starkly beautiful. This month's feature photo was taken on the morning of January 30th when polar air dropped the air temperature to -22° with a wind-chill of -48°. The air was so cold and the lake water relatively warm, sea smoke formed on the open water. Check out more photos from late January's deep freeze right here.
---
FEBRUARY: Still cold, but eerily beautiful. This photo was taken from 360 Chicago early in 2019. The calm waters within the breakwater had fully frozen, and a light windswept snow coated the sheet of ice.
---
MARCH: I don't think a Chicago calendar would be complete without a photo of the St. Patrick's Day river dyeing. This photo was taken late in the afternoon on the day Chicago celebrates St. Paddy's day – the Saturday before the actual holiday. In 2019, Chicago celebrated (and dyed the river) on Saturday, March 16th.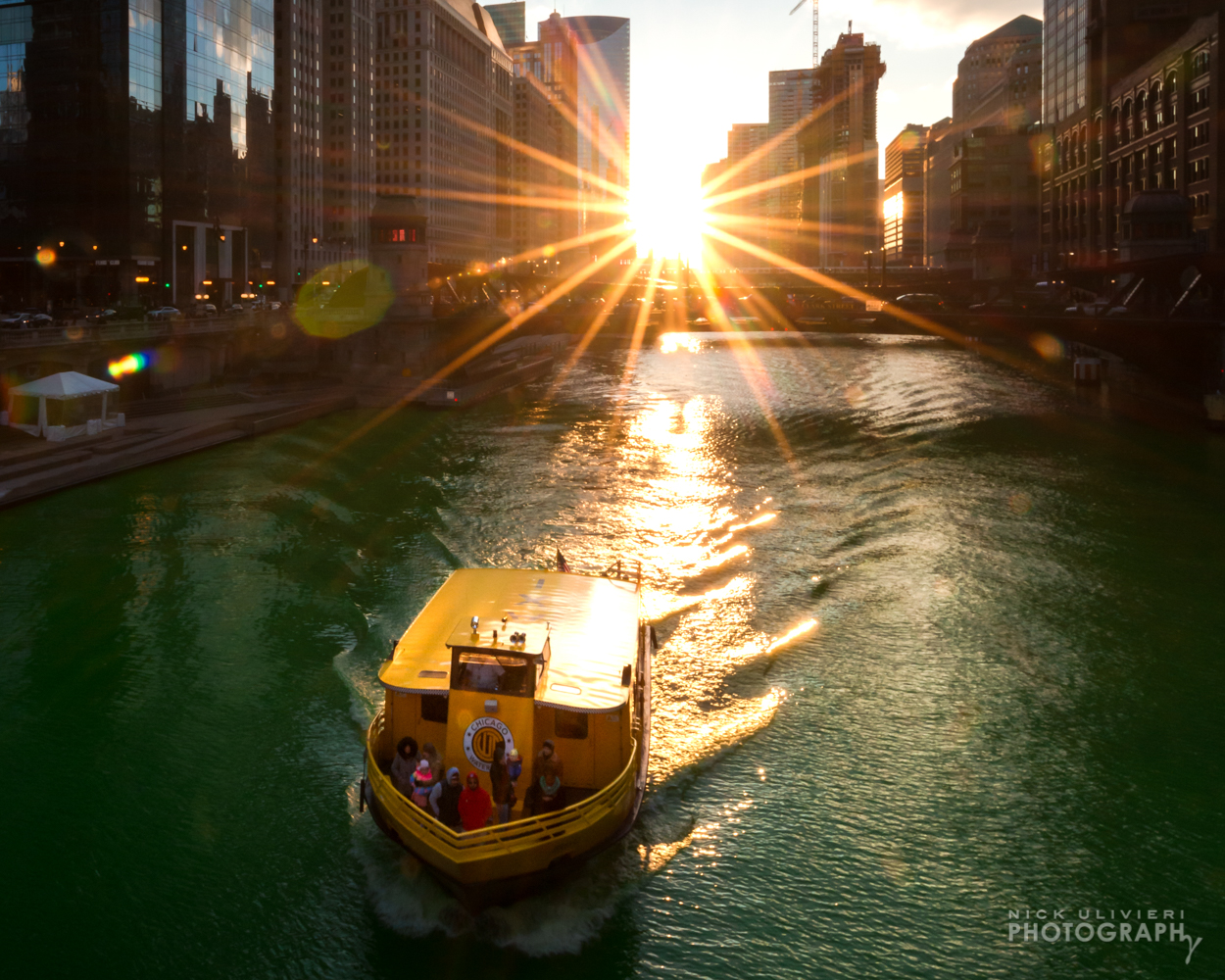 ---
APRIL: This is the view from atop Vista Tower. While still under construction, I had the pleasure of visiting multiple areas high-up in the tower – including the roof. Here's my full, on-going gallery of Vista photos.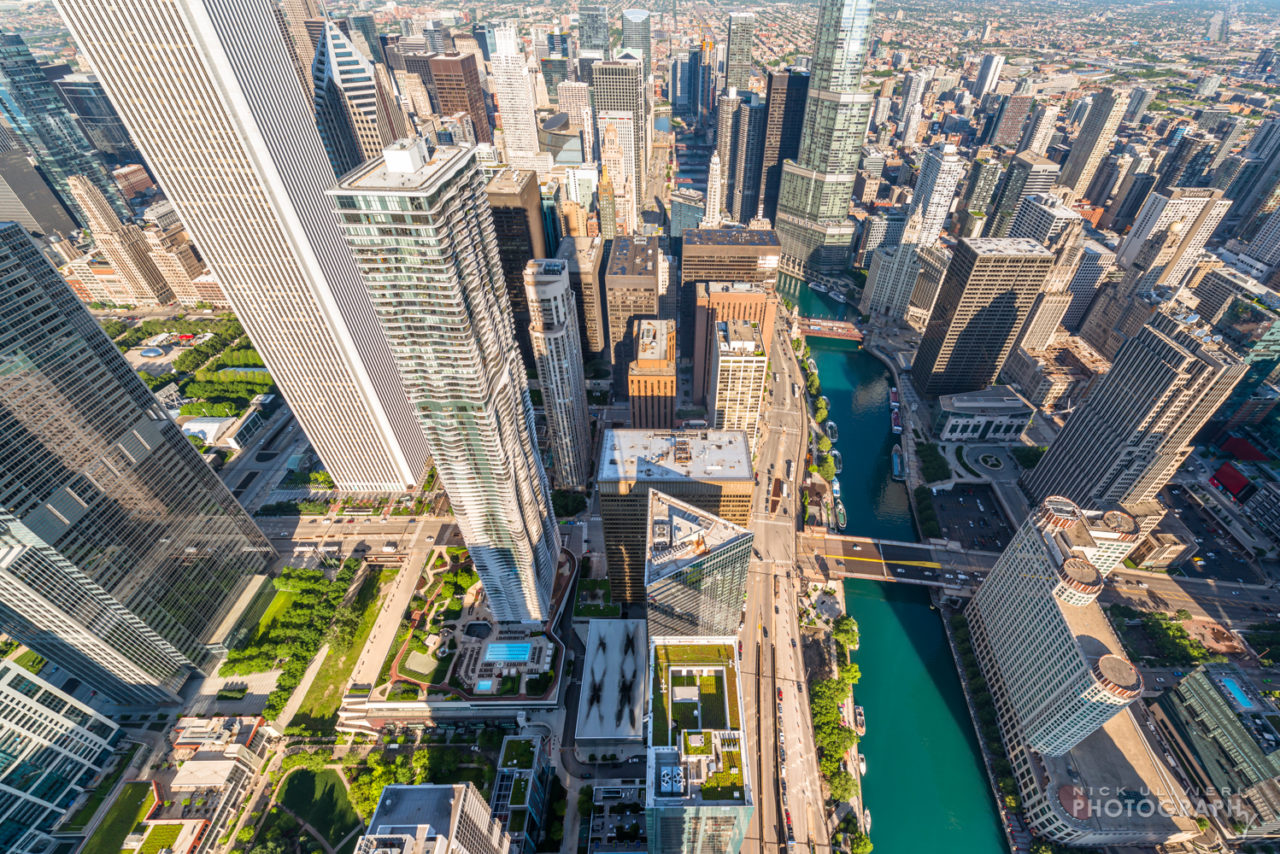 ---
MAY: Ever since Northerly Island was re-imagined as a nature preserve & walking path, it has been one of my favorite spots to ride my bike. The skyline reflecting in the lagoon on an early summer morning is breathtaking. If you haven't been out there yet, you should check it out next spring.
---
JUNE: Few atmospheric phenomena are more exciting to catch than a shelf cloud. On the morning of June 30th, I was following the weather closely, anticipating a good photo opportunity. Through my weather-minded Twitter contacts, I was tipped off to a shelf-cloud about 100 miles NW of downtown. Shortly thereafter, I rushed over to the 18th Street bridge, hoping, the monster shelf cloud I saw on Twitter wouldn't dissipate by the time the storm front arrived in Chicago. Thankfully, the gamble paid off and this aline-like cloud invaded the city. You can see more photos and learn more about these skyscraper-scraping shelf clouds here.
---
JULY: Two days before July 4th 2019, I rushed up to 360 CHICAGO to catch a storm. Luckily, my patience paid off and a few bolts dropped from the sky. I didn't catch any antenna strikes this night, but the sky texture above the distant bolt more than made up for it. Here are a few more shots.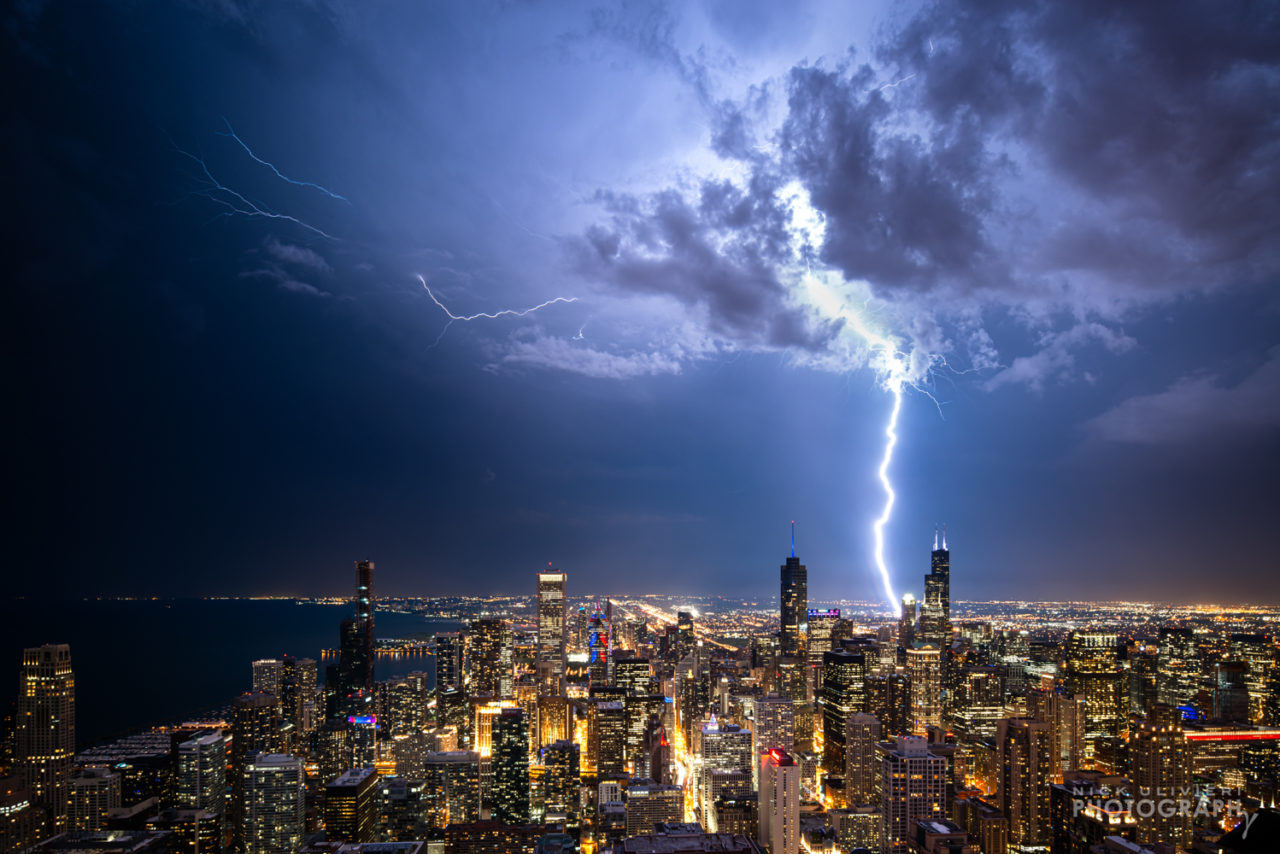 ---
AUGUST: It's Air & Water show time! This past year, I ventured over to Milton Olive Park during the Blue Angels' practice runs on the Thursday before the weekend show. This was the first time I shot the show from this vantage point. Here are all my photos from the long weekend > 2019 Chicago Air & Water Show.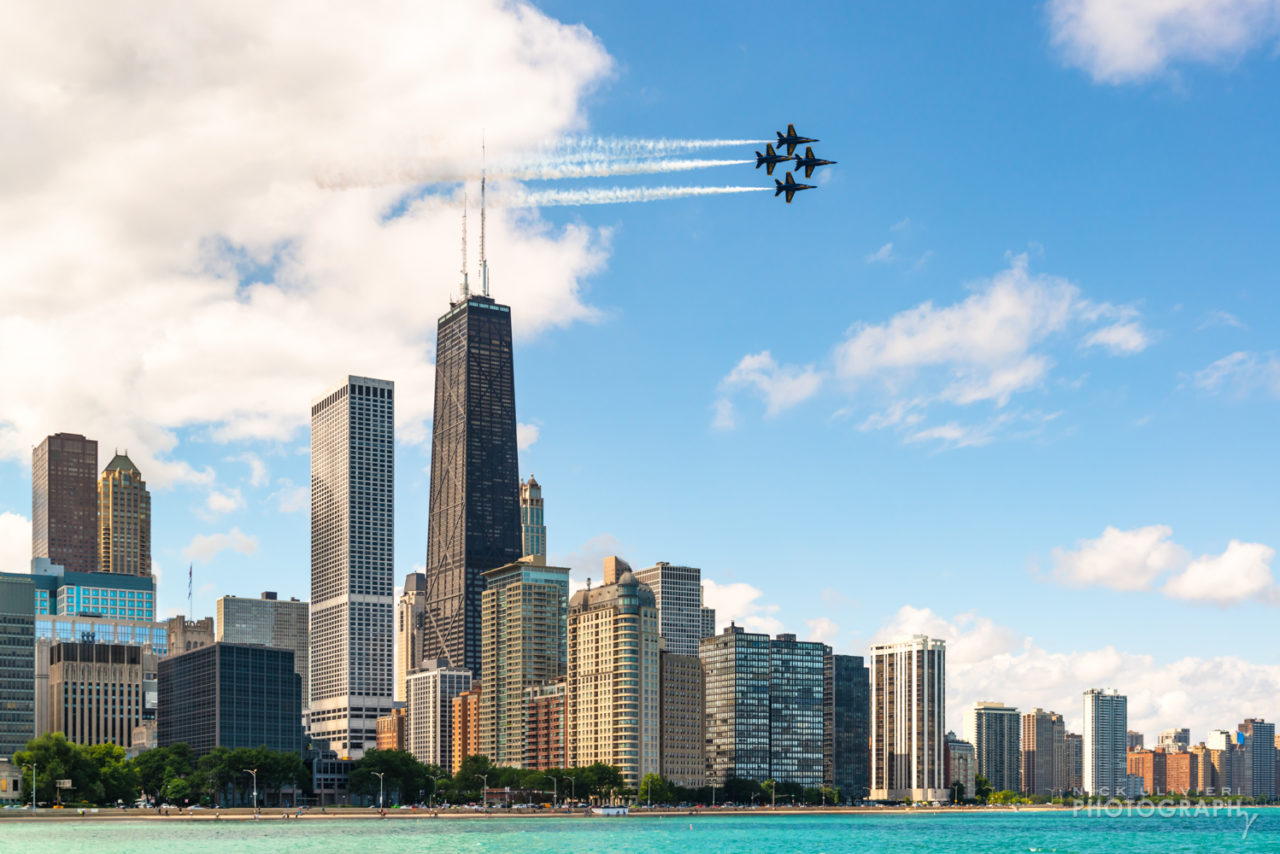 ---
SEPTEMBER: It's Chicagohenge season! This past fall, on the autumnal equinox, Amy and I flew with our friends at Rotorzen. Our goal was to capture the sunlight as is spilled down Chicago's steel & concrete canyons. This only happens a few days a year around the spring and fall equinoxes when the sky is clear. You can see more aerial photos from that flight here.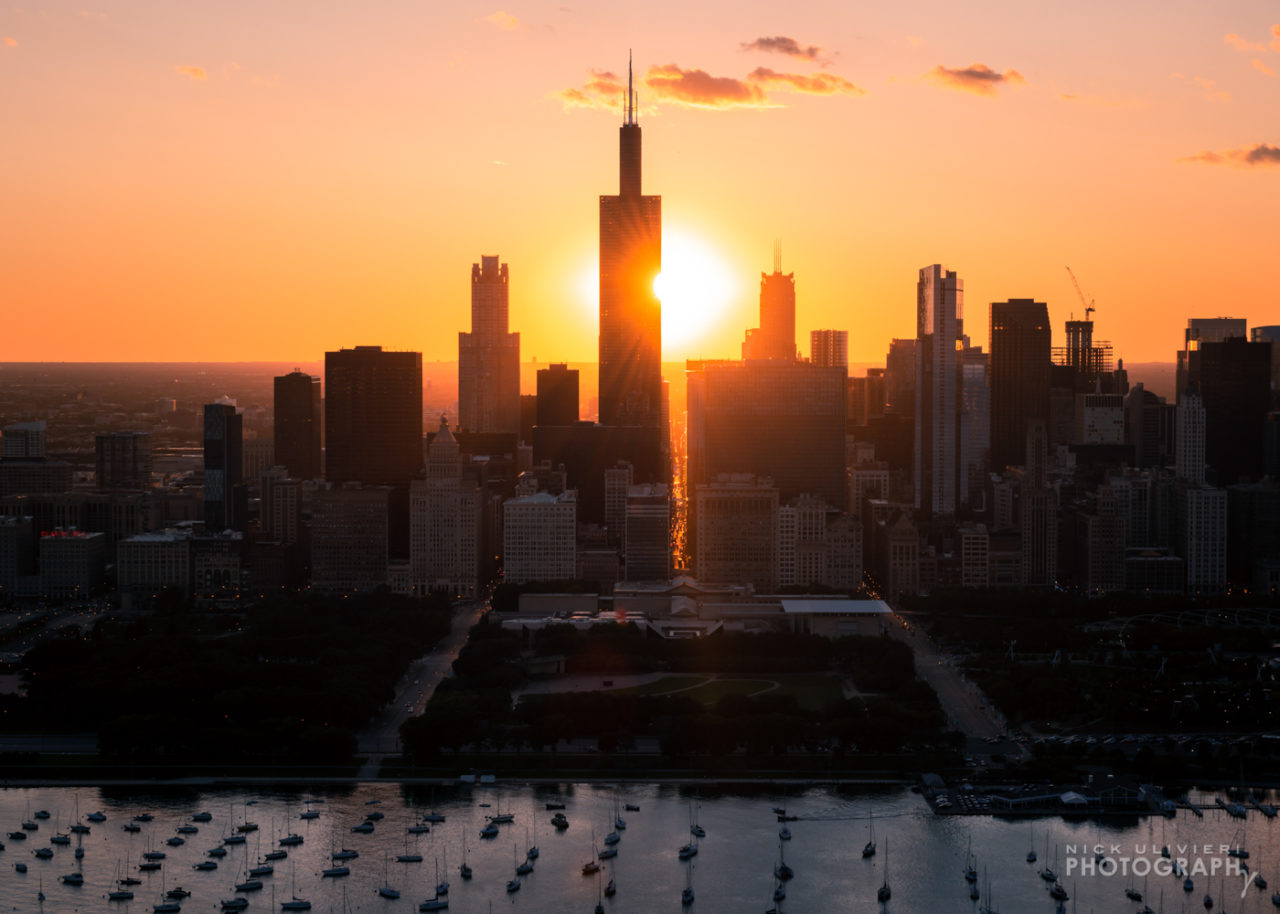 ---
OCTOBER: I captured this image in the last week of September 2019. Not only was it a late-season storm, it was one of the best lighting producing storms Chicago had seen in a handful of years.
That said, this image in particular is a **2-frame composite**. Hancock/Trump were struck in one frame, then a couple minutes later, Willis/Hancock were struck. Of course, I was hoping for the natural single-frame "triple-strike", but hey…can't win them all. Maybe next year.
---
NOVEMBER: The perfect mix of fall & winter. I actually took this photo on October 31st during a surprisingly large, early snowstorm. The contrast between the snow and colors of fall was quite striking, and is a perfect fit for November. I posted a couple other shots from this storm to my Instagram feed.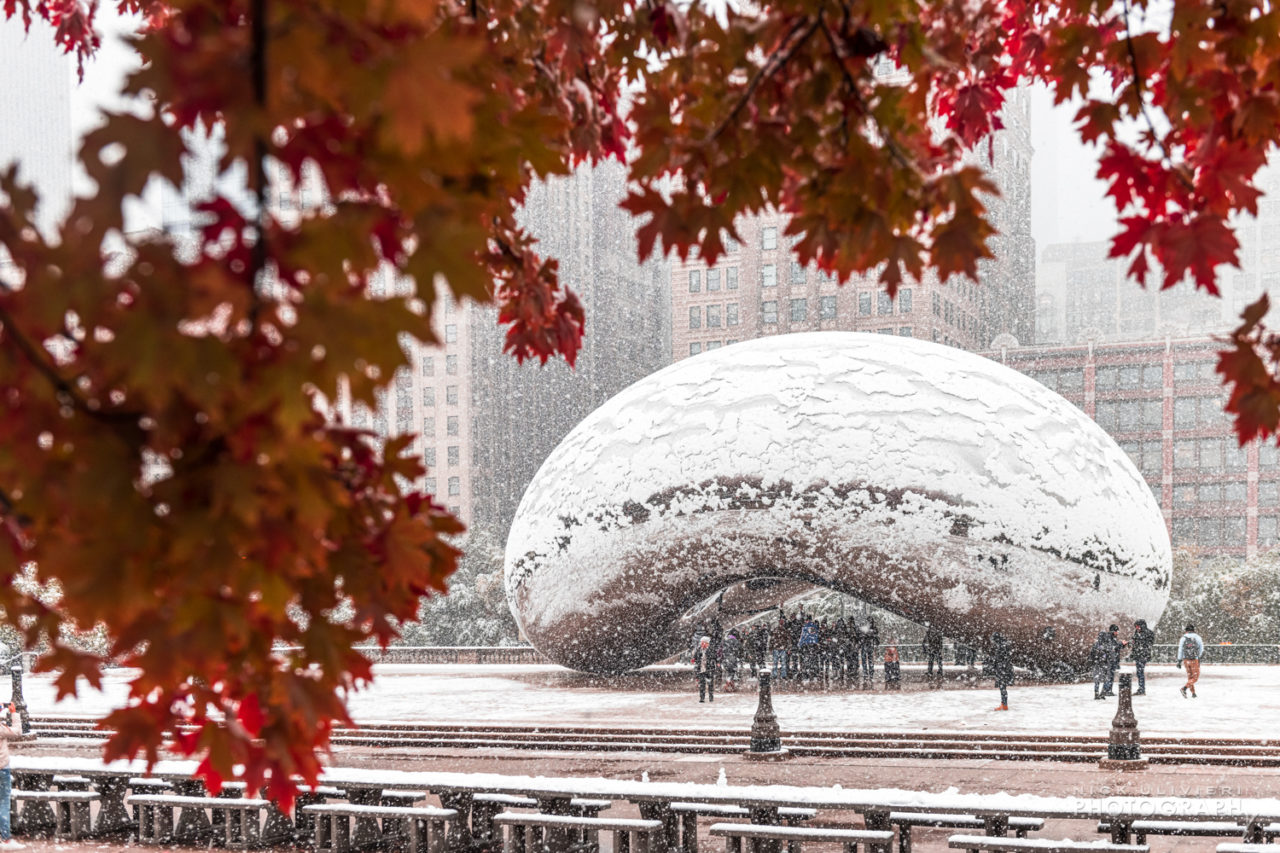 ---
DECEMBER: This wintry scene was captured from the roof of LondonHouse Chicago. I used my camera's flash to illuminate and 'freeze' the falling snowflakes in front of my camera. If you want to try the 'snokeh' technique [snow + bokeh], here's my tutorial.