110 North Wacker Drive | Final Photography
In August and November of 2021, I undertook one of my biggest projects to date; photographing the (then) recently completed 110 North Wacker Drive for the architect, developer and a host of other project stakeholders.
Before we jump into the story, here's some data on the tower itself. 110 North Wacker Drive was designed by Goettsch partners, developed by Riverside I.D., and built by Clark Construction. The 56-story structure towers over the Chicago River at an impressive 817′. It's the tallest office building constructed in Chicago since Two Prudential Plaza in 1990. One of its defining architectural  features is the serrated western facade. This saw-toothed design allows for an extra 7-8 corner offices on the West side of the building alone. On its largest floor plates, the tower boats fourteen corner offices!
But 110's most recognizable feature – particularly up close – are the three trident-like columns that support and channel the weight of the building into massive caissons sunk deep into the earth. While this was undoubtedly a more challenging approach – financially and structurally – it created a more open and interesting riverwalk. But let's start at the beginning.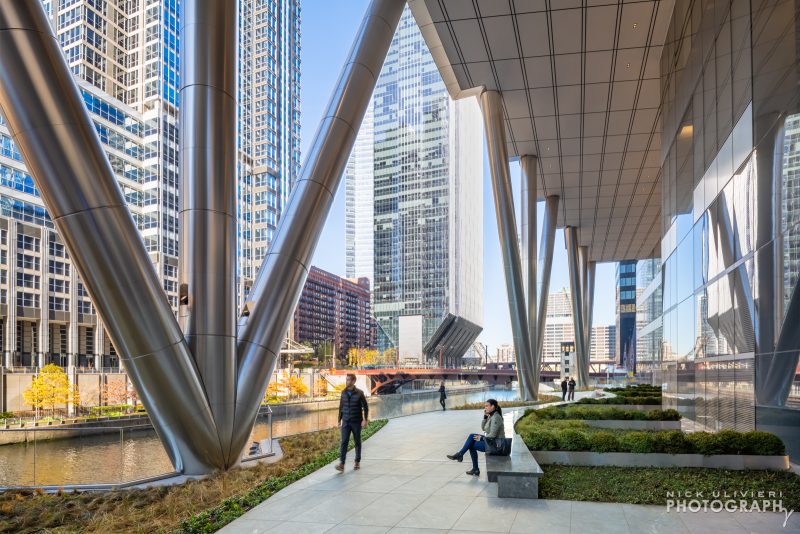 ---
Construction Progress
Like most big construction projects, I can't resist the allure of taking photos during  construction. For one thing, it's fun. These photos are akin to a time capsule. They can't be recreated. Secondly, it's good practice. If a firm hires me for final photography, I generally have a good sense of what angles may or may not work. In the case of 110 North Wacker, I stopped by the site a handful of times during the construction process – especially during construction of lower-level steel work. Watching the installation of the angled columns on a cold winter day was impressive. I stopped by occasionally, tracking its progress, and eventually the developer invited me on-site for some progress photos. I even created some images of 110 North Wacker from the rooftop of its sister tower 150 North Riverside! Here's a mix of images taken during the early to middle stages of construction.
---
Final Photography
Part 1:
In August and September of 2021, a couple rounds of "near" final photography were scheduled. In the architecture world, award season was coming up, and the project stakeholders needed some quality images for their various submissions. While a majority of the tower appeared finished, there were some areas – notably the riverwalk – that weren't quite photo ready. So we did out best to create a handful of images that deemphasized those details, but still captured the overall shape and feel of the building. Here's a look.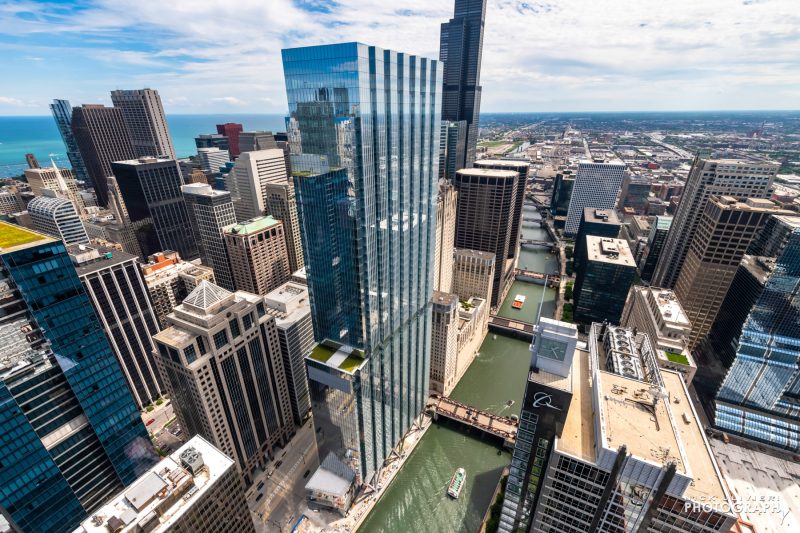 Part 2:
Later in the year, once the riverwalk was complete and plantings were installed, a small window of time existed to capture truly final images of the tower's riverwalk. In addition to capturing the riverwalk during this final final shoot (as I affectionally called it) we photographed the exterior of the tower at blue hour and the 25th floor tenant terrace. I even got back up onto 150 North Riverside for a few high-angle shots of 110 North Wacker. The resulting photos were captured over three days at the very beginning of November. Thankfully, relatively mild temperatures and photogenic weather made the photoshoots bearable and successful.
---
Tech Specs
For those of you curious about the equipment I used on this project, the list is pretty short. I used my Nikon D850 as my main body, backed-up with a D800. Most of the final images were captured using a Nikkor 19mm PCE (tilt shift) lens, a Nikkor 14-24mm f 2/8, or a Nikkor 24-70mm f/2.8. Also many of the images – particularly the full-height shots of the tower – are vertical panoramas using the tilt-shift lens' shift function. To me, this is one of the tilt-shift's most unsung uses. Without panning or tilting your lens, you can capture both extra tall or extra wide photos that'll stitch together perfectly. I could go on about making panoramas from tilt-shits, but I'll save that for another blog post.
For some of the earlier construction photo I used a Nikkor 28-300mm f 3/5-5.6; a great all-around outdoor lens by the way. Its not exceptionally fast, but for the zoom range, it's a really nice lightweight option when you don't have a specific shot in mind.
Accolades
Since the tower opened in October of 2021, its deign has earned it multiple awards. Here's a current list that may still grow!
2021 Top 10, Emporis International Skyscraper Award 2020
2021 International Architecture Award – The Chicago Athenaeum
2021 Award of Excellence, Best Tall Building 200-299 meters – Council on Tall Buildings and Urban Habitat
2021 American Architecture Award – The Chicago Athenaeum
2021 Best Project, Office/Retail/Mixed-Use – ENR Midwest Magazine
2021 Commercial Development of the Year – Chicago Commercial Real Estate Awards
2021 Merit Award for Commercial Construction Over $50 Million – Chicago Building Congress
2020 Office Development of the Year – NAIOP Chicago Chapter
2020 Best Office Development – IREJ Real Estate Awards